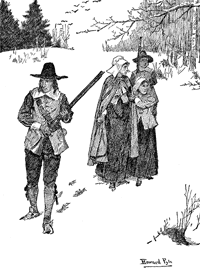 "I was sorely tossed for one fourteen weeks in a bitter winter season,
not knowing what bed or bread did mean."
The winter of 1635/6 was cold even by New England standards. That winter, Narragansett Bay froze over, an event that rarely happens. In this extreme cold, Roger Williams, a city boy from London, made his escape on foot from Salem. The nearest European settlement that he could go to was New Amsterdam, now known as New York, more than 200 miles away. The English settlements at Plymouth and Boston would not welcome him back. But there were people close by willing to help. More than likely it was a Wampanoag hunting party who found Roger, gave him shelter, and brought him safely to Massasoit's home near present day Bristol, Rhode Island.
As chief sachem of the Wampanoag, Massasoit welcomed Roger and sheltered him through the winter. That spring Massasoit gave him a tract of land along the SeekonkRiver in what is now East Providence. A handful of Roger's followers came down from Salem and began to plant fields and build houses. Almost as soon as they had started, Roger received at letter from Governor Winslow of Plymouth. Winslow warned Roger that he was within the bounds of Plymouth Colony and advised him to cross the SeekonkRiver. By moving beyond Plymouth's jurisdiction, all could live as friends.