People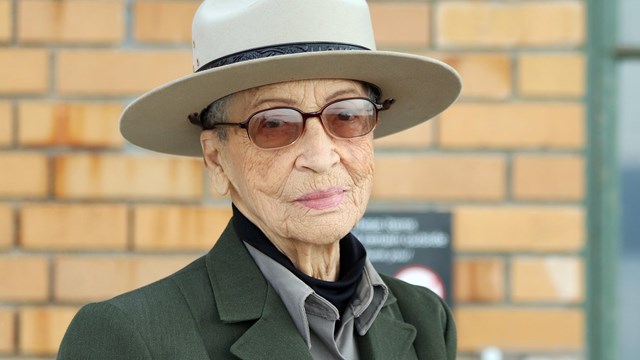 Betty Reid Soskin
Biography, Video program and Passport Stamp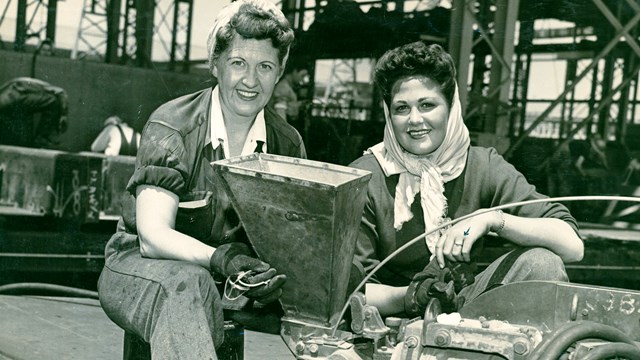 History and Culture
Looking to learn more about the WWII Home Front? Start by clicking here.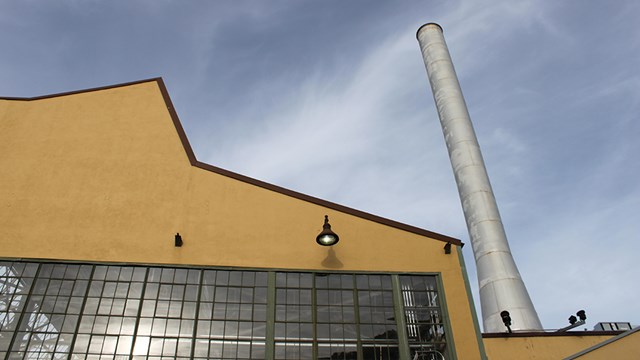 Sites To See!
The Richmond Home Front provides a number of historic places to drive by, view or visit. Click the image for points of interest.
Experiences On the Home Front
Explore the stories of the people who were part of the WWII home front. Learn more about their daily lives and the impacts that were made on the city of Richmond, California and the country at large. Most Bio's have an expanded page of information. You can access these pages by clicking on any main Bio name that has a live link.
Note: We have LOTS more Rosies and Home Front worker bios to come. Please check back often.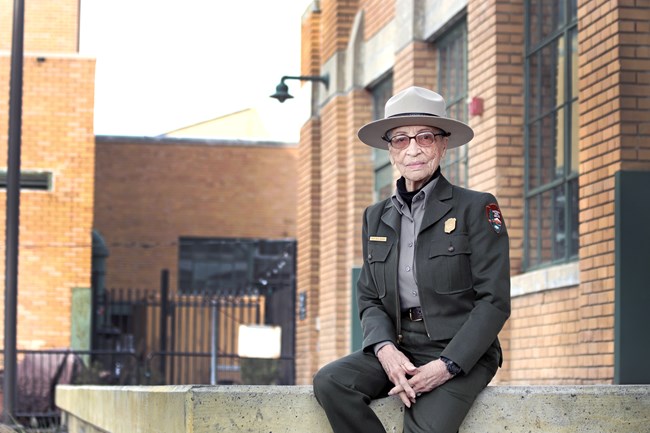 Betty Soskin (Betty Charbonnet) grew up in a Cajun-Creole, African American family that settled in Oakland, California after the "Great Flood" that devastated New Orleans in 1927. Her parents joined her maternal grandfather, George Allen, who had resettled in Oakland at the end of World War I. The Allen family followed the pattern set by the black railroad workers who discovered the West Coast while serving as sleeping car porters, waiters, and chefs for the Southern Pacific and Santa Fe railroads: they settled at the western end of their run where life might be less impacted by southern hostility.
Richmond Kaiser Shipyard #3 Draftsmand 1943-1944
Marian McKey Sousa was born January 6th, 1926 in Eugene Oregon – the daughter of Sgt. L.H. and Mildred McKey. In 1940, her father, a career serviceman who was a WW I Vet, was transferred to the Astoria, Oregon area at Fort Stevens so the family moved to the coastal town of Seaside. Marian was 15 that December 8th when she sat in her High School's auditorium to hear the speech by President Roosevelt, declaring that the U.S. was now at war with Japan because of the devastating attack on Pearl Harbor on December 7, 1941.
Richmond Kaiser Shipyard #3 Pipe Welder 1944-1945
Marian Parsons Wynn was born on August 19, 1926, the third of 11 children. Her father answered the call for war work in 1942 and came out to Richmond, CA to become an Electrician Leadman in Kaiser Shipyard #3. Marian was anxious to follow but promised her father she would finish high school first before taking a 3 day Greyhound bus trip out to California.
Moore's Shipyard, Oakland - Journeyman Welder, 1942-1945
Mary Schevchik Torres was born in Donora, PA., on May 26, 1923. It was a nice quiet town with few jobs. On December 7, 1941 the Japanese planes bombed Pearl Harbor, President Roosevelt declared war and lives were changed forever. Mary's brothers John had joined the Army while Eddie joined the Navy. Mary wanted to help do something to win the war and she saw an ad in the local paper that war workers were needed out in California. With only a few months until graduation, Mary decided she would go to California.
In Loving Memory of...

Richmond Kaiser Shipyard #3 - Journeyman Welder, 1942-1945
Agnes Moore was born February, 1920, the 6th of 7 children in Searcy County, Arkansas. In 1924 her father, the local sheriff, was killed in the line of duty, leaving her mother a widow and to raise Agnes and her siblings on her own, now ages 2 to14.
As expected of girls during that time Agnes had married at 16 and had a 1 year old daughter when she and her soon-to-be ex came out to California in 1939, following her siblings to Salinas. She was able to find work in the vegetable packing industry. The young couple eventually divorced and Agnes now had to support herself and her child.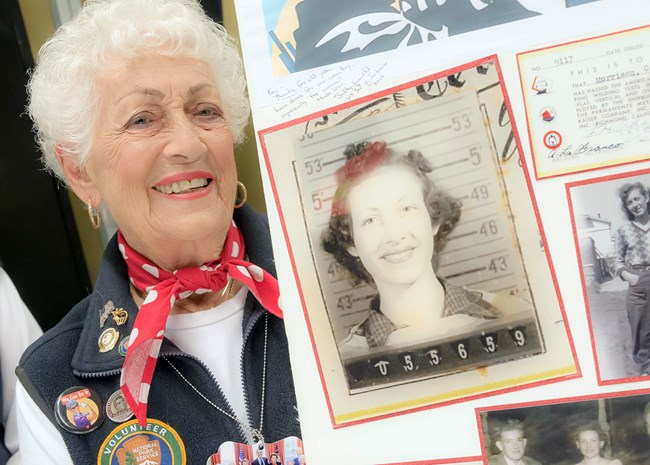 In Loving Memory of...

Richmond Kaiser Shipyard #2 - Journeyman Welder, 1943-1945
Catherine Stavros Morrison (Kay) was born in Chico, CA., on November 22, 1923. Kay and her husband Ray married when she was a junior in high school. Catherine's older brother was in the Army, serving in the African campaign chasing Rommel and her husband was eager to join the service too but the military classified him as "4F"- unable to serve due to health reasons. After her graduation in 1941 they moved to the Bay Area to search for work in the war effort, finding an apartment on Haight and Fillmore in San Francisco and Ray was able to find work right away in Kaiser Shipyard #2 as a Shipwright (carpenter).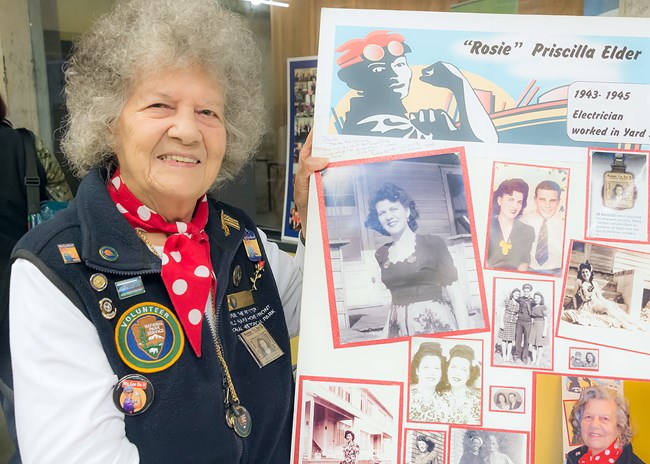 In Loving Memory of...

Richmond Kiaser shipyard 3# - Electrician, 1943-1945
Priscilla Elder was born in Iowa on March 23, 1920, the 3rd out of 11 kids. Priscilla's brother Tony was a gunnar's mate on the USS Dewey that arrived at Pearl Harbor to tend to the injured survivors after the Japanese attack. Her husband Donald was drafted shortly thereafter and served in Europe under General Patton in the 3rd Army. (Another brother Fred was in the Army Medical Corps.)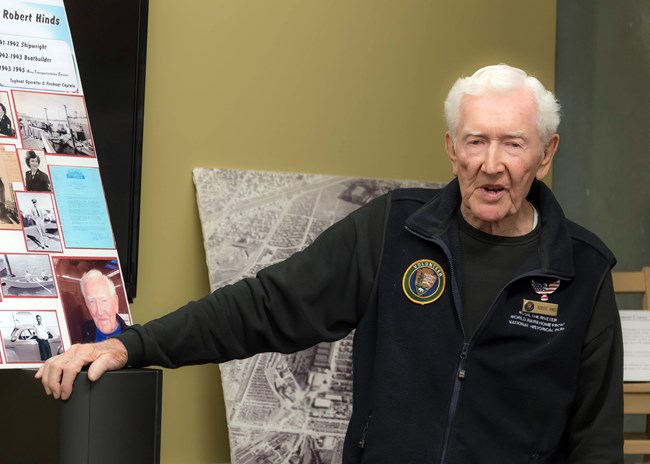 In Loving Memory of...

Shipwright 1941-1942, Boat Builder 1942-1943, Army Transportation Service - Tugboat Operator & Fireboat Captain 1943-1945.

During WWII there were many men who went off to the frontlines but there were also men who were needed at home for the war effort. One of them was Robert Hinds. Bob was born in Berkeley, CA., on June 29, 1920. Bob found his passion in life at an early age, building his first boat at the age of 14, followed by a sailboat at 15 and a cabin cruiser at the age of 19 on which he would sail over to the World's Fair being held on Treasure Island in 1939.


Last updated: May 3, 2023