What's Happening Below Hallett Peak in Chaos Canyon and Lake Haiyaha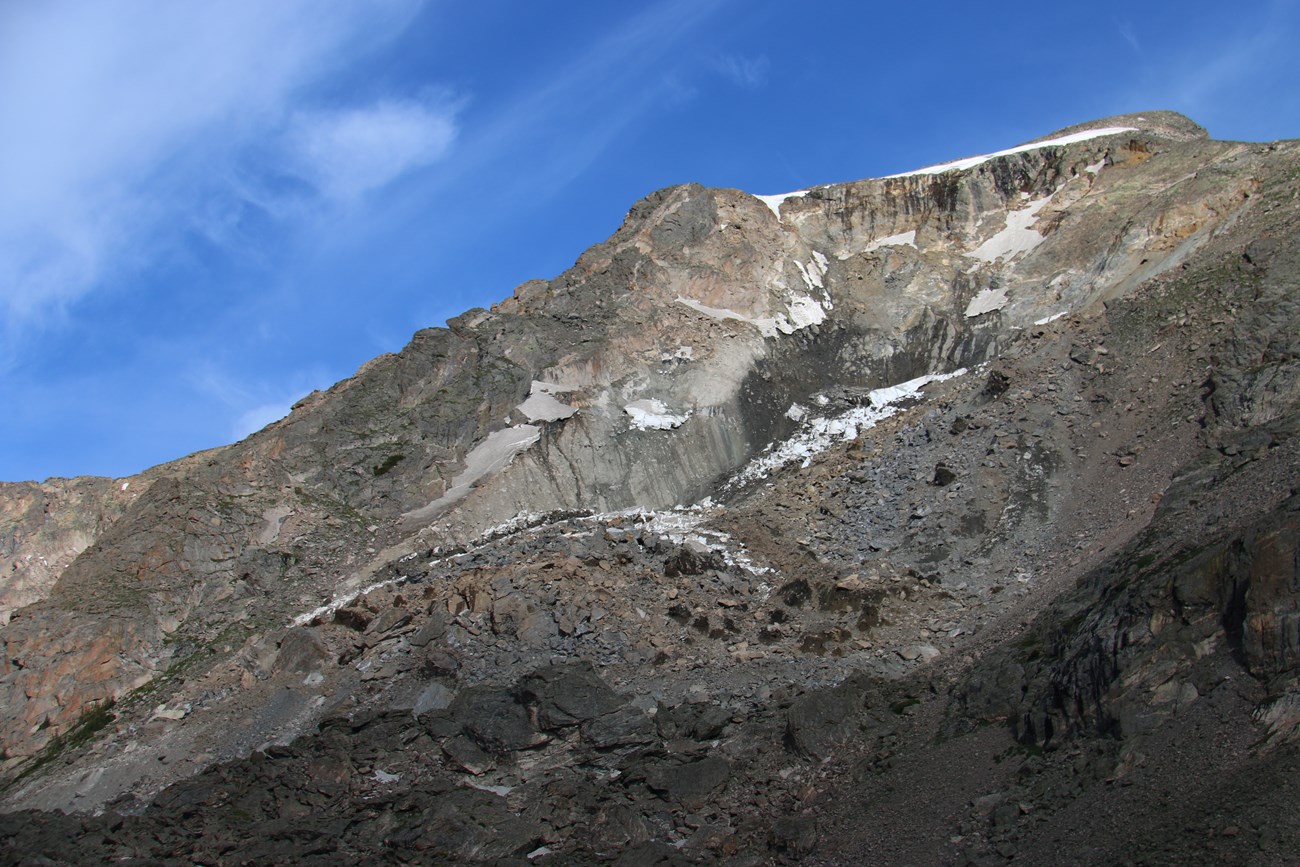 On June 28, 2022, a large debris slide event occurred on the south slope of Hallett Peak, resulting in rock sliding and falling downhill into Upper Chaos Canyon. Rocky Mountain National Park staff have been working with colleagues at the NPS Geologic Resources Division (GRD) and the US Geologic Survey (USGS) to help us understand why this debris slide occurred.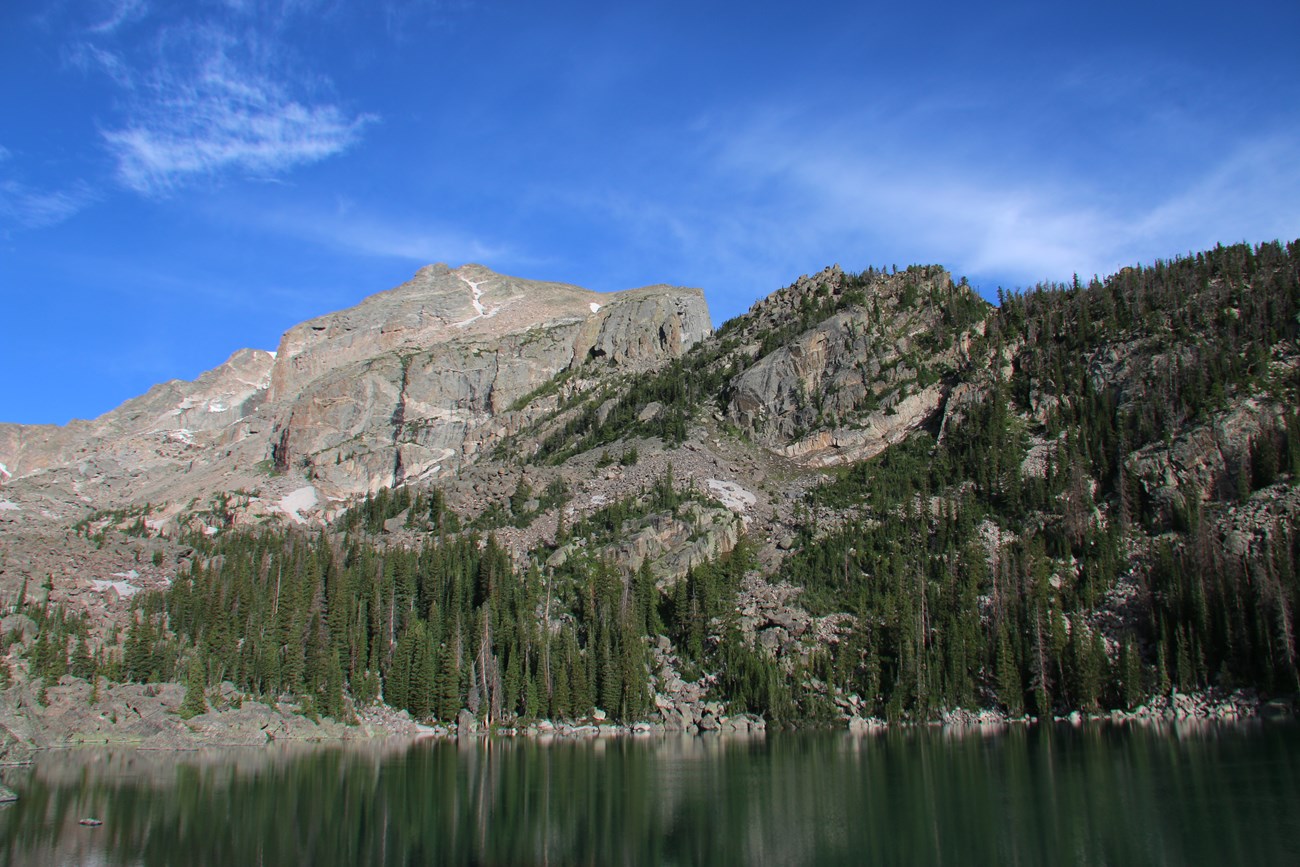 Image pictured above: A view of Hallett Peak from Lake Haiyaha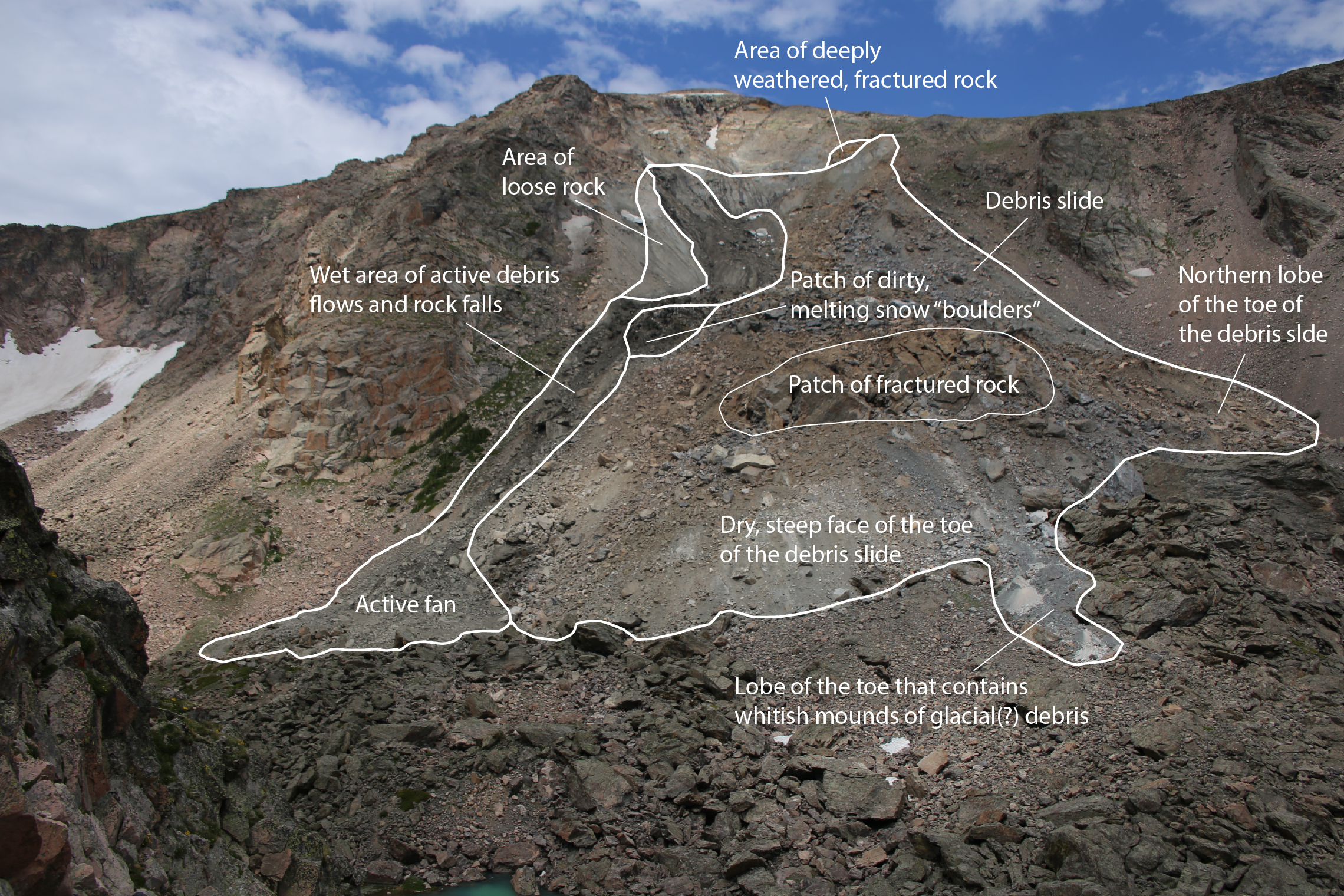 Based on initial observations, taken June through August 2022, the Hallett Peak event appears to be a debris slide, largely mobilizing existing debris, the overlying snowfield, and stripping the debris down to bedrock in some parts of the overall area. By using the term "debris," this implies that the area contains a wide assortment of sizes of material, from small clay to large boulder sizes.
The area is still highly unstable and active. Saturated areas are still sliding and large boulders may still slide downhill, especially during or after large precipitation events.
All areas in Chaos Canyon to the west of Lake Haiyaha remain closed in Rocky Mountain National Park to all users due to significant debris slide activity.
Chaos Canyon is a popular area for bouldering. While there are always inherent risks involved with recreating in wilderness areas,
entering the closure area is prohibited.
There is no known time on when this closure will be lifted for visitor and staff safety.
The hiking trail to Lake Haiyaha, Lake Haiyaha itself, and hiking trails on the north side of Hallett Peak remain open. The bouldering area in lower Chaos Canyon, on the north and east shore of the Lake Haiyaha, remains open.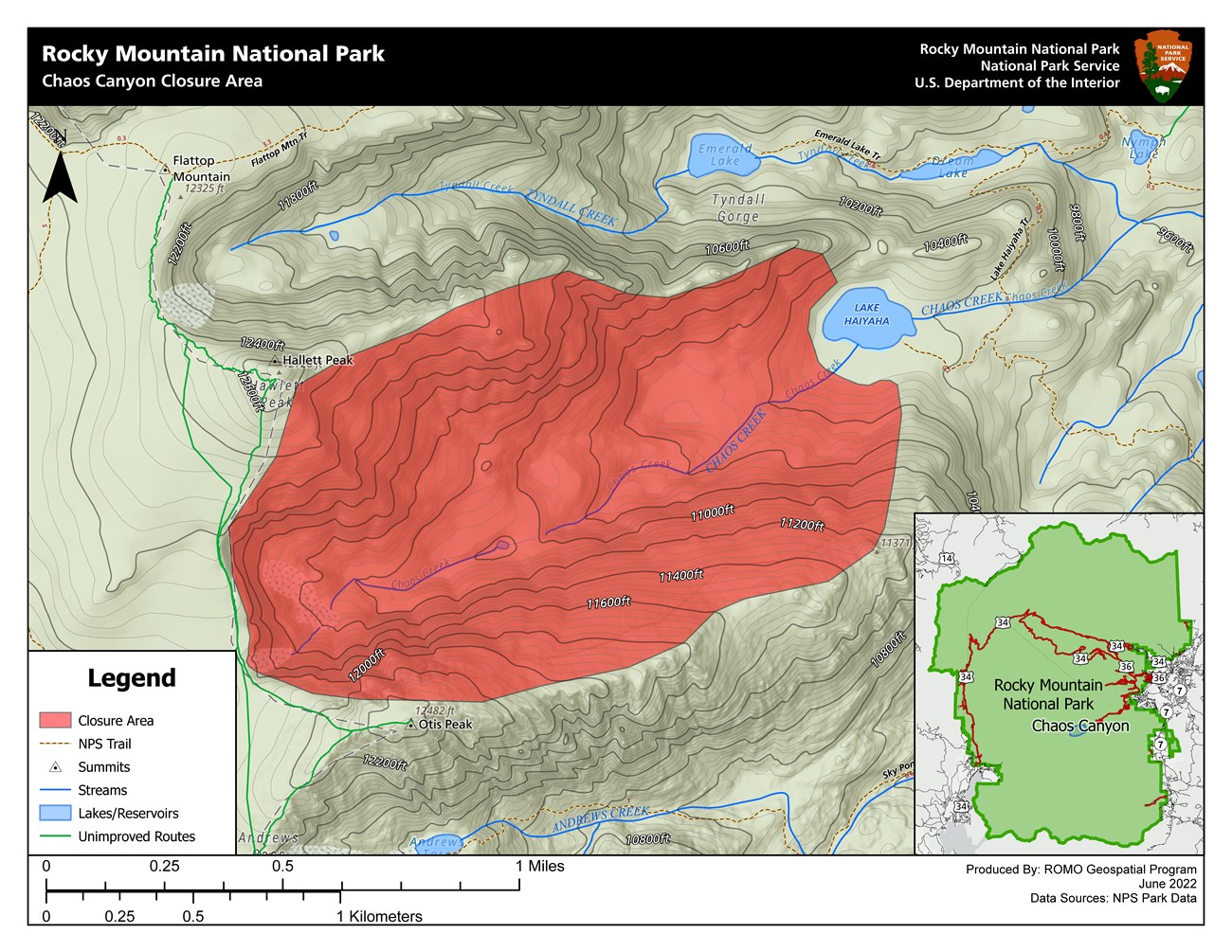 Why did the Color of
Lake Haiyaha Change?

The grinding action of the debris slide in Chaos Canyon transported a lot of silt and clay downhill quickly and into Lake Haiyaha. This process is similar to what happens with glaciers over long periods of time.

Glaciers work to grind and pulverize rocks along valley floors and walls. These processes produce a fine-grained powder of silt and clay called "glacial flour." In the case of Lake Haiyaha, however, the grinding of rock was not from the slow work of glaciers. It occurred quickly during the debris slide resulting in a pulse of "rock flour" transported to the lake. Since the particles are so fine, they are slow to sink to the bottom, remaining suspended in the water column instead.

When sunlight hits the water, these particles absorb the shortest wavelengths, the purples and indigos. Meanwhile, the water absorbs the longer wavelength reds, oranges, and yellows. That leaves mainly blues and greens to get scattered back to our eyes.

This is what makes Lake Haiyaha appear a milky sea-green color.
How Long will Lake Haiyaha be this Unique Color?

It is unknown how long Lake Haiyaha will appear to look this milky sea-green color. Many different factors play a role in this process, such as:
Whether the debris slide activity in Chaos Canyon continues to transport more rock flour into Lake Haiyaha
How long it takes for the fine silt and clay particles to sink to the bottom of Lake Haiyaha (this will depend on the particle density and shape, wind turbulence, lake depth, and mixing of the lake's water).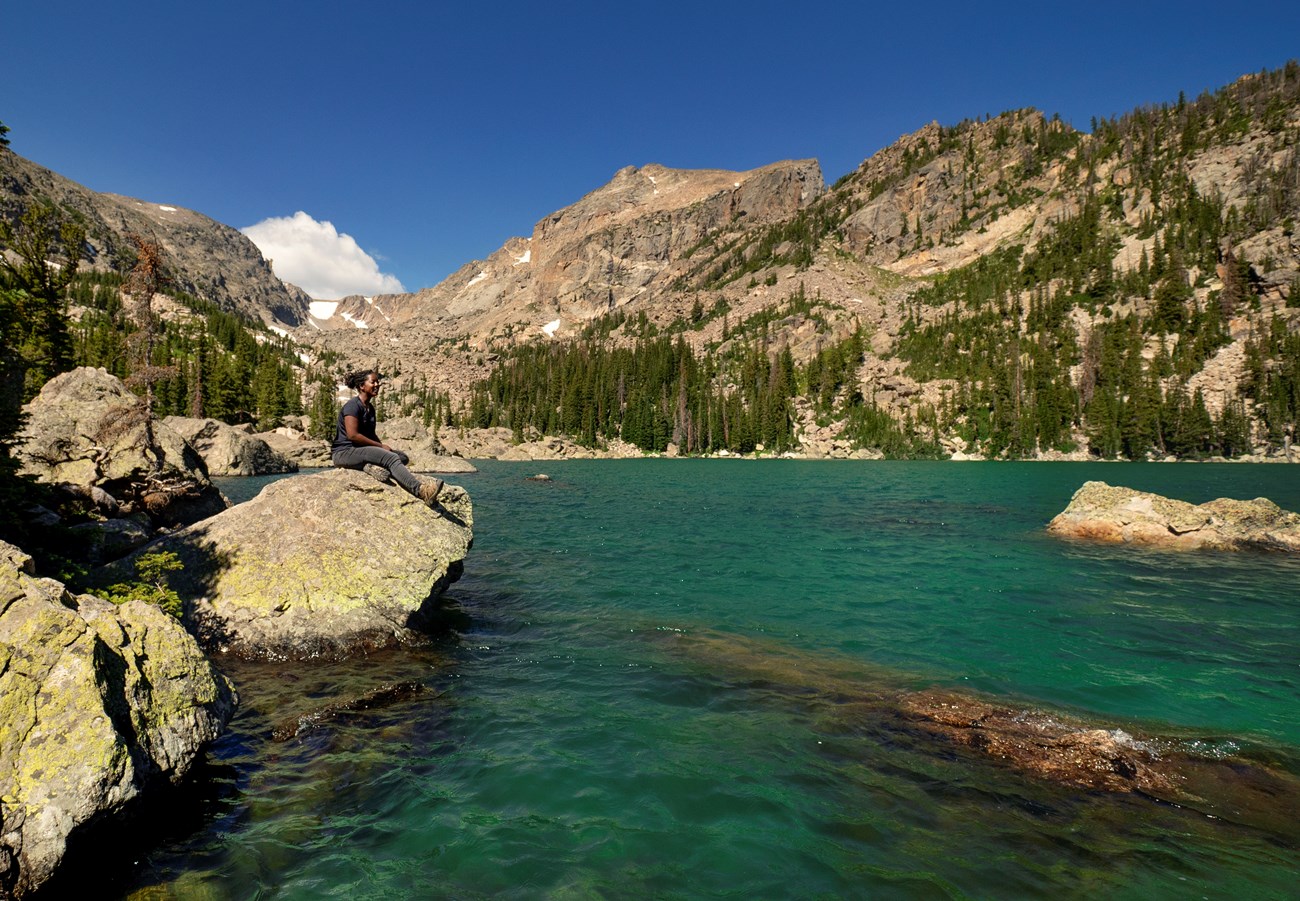 Top Image: Lake Haiyaha as seen before the Hallett Peak debris slide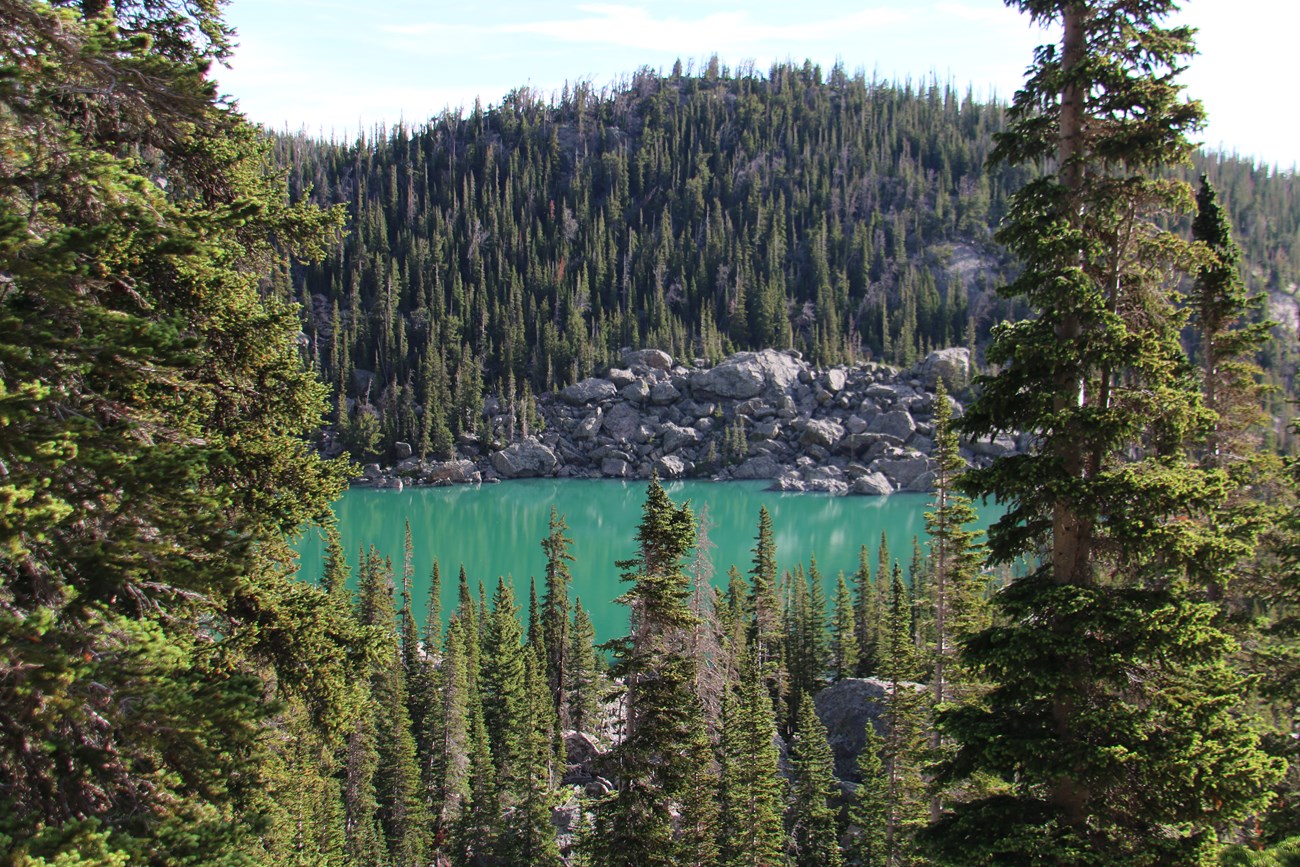 Bottom Image: Lake Haiyaha as seen after the Chaos Canyon debris slide.
Last updated: October 24, 2022