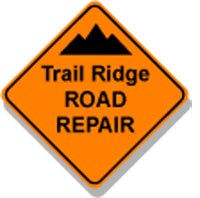 Trail Ridge Road, the highest continuous paved road in the continental United States, is celebrating its 75th Anniversary this year. This awe inspiring road needs work that is long overdue and will occur this spring and summer. This project will focus on critical repairs such as resurfacing the road from Deer Ridge Junction to Rainbow Curve, and include six roadway slump repairs between Forest Canyon Overlook and the Colorado River Trailhead. Because Trail Ridge Road reaches an elevation of 12,183 feet, the only time to do work is during the summer. Park Service staff and the contractor will do their best to complete this major roadwork in a timely manner, on budget, and allow access to visitors. Following is information about the road work. Please check at a park visitor center or entrance station for up-to-date information on road delays.
April 1 through May 24-Completed
Trail Ridge Road will be closed at Deer Ridge Junction. The closure will be in effect from Mondays at 6:00 a.m. through Saturdays at 6:00 a.m. Weather permitting, the road will be open to Many Parks Curve on Saturdays and Sundays.
Trail Ridge Road is open and, weather permitting, will remain open the rest of the season. For current road status, click here.
May 29 through June 29-Completed
Work will take place from Deer Ridge Junction to Rainbow Curve. During this phase, park visitors can expect 20 to 30 minute delays. There may be multiple areas of construction occurring concurrently and in that case the combined delay times will not exceed 60 minutes.