Pro Cycling Challenge Road Closures
Coming August 24, 2013!
Stage 6 of the 2013 USA Pro Cycling Challenge will come through the community of Estes Park on the east side of Rocky Mountain National Park on Saturday, August 24. The race will start that morning in Loveland and finish in Fort Collins. The race will not come through Rocky Mountain National Park however access to and egress from the park will be heavily impacted.

If you plan to visit Rocky Mountain National Park and enter on the east side through Beaver Meadows Entrance or Fall River Entrance on Saturday, August 24, please come early - plan to arrive by 8:00 a.m.! Numerous planned road closures in the Estes Park community, listed below, will affect access to and from the park. If you are unable to arrive by 8:00 a.m. you will face detours and heavy congestion. If you plan to access the park from the west side and leave from the east side please plan accordingly.

Due to road closures adjacent to the park's east side, the Hiker Shuttle from Estes Park to Rocky Mountain National Park will not operate. The shuttle routes inside the park along the Bear Lake Road corridor will operate as usual.


The Dunraven Trailhead and Lumpy Ridge Trailhead will be inaccessible for most of the day on August 24.
US Highway 36, which is the road to Beaver Meadows Entrance, will close at approximately 9:00 a.m. until late afternoon. There will be detours in place which will result in heavy congestion and delays.
US Highway 34, which is the road to Fall River Entrance, will close at approximately noon to 3:00 p.m. There will be detours in place which will result in heavy congestion and delays.
If you are planning to exit on the east side of the park (Highway 34 or 36) please plan to exit after 4:00 p.m. to avoid detours, heavy congestion and delays.
Follow us on Twitter: RMNPOfficial - to get traffic updates on August 24.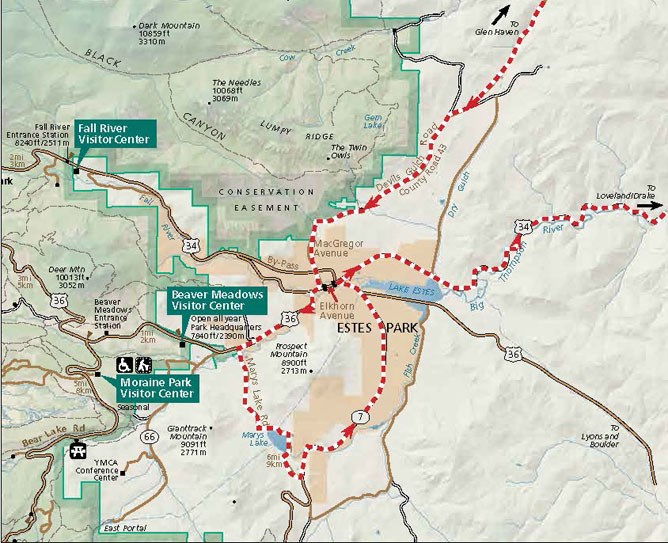 Race Route and Closures in the Estes Valley

For the Estes Park loop, cyclists ride west on U.S. 34/Big Thompson Canyon to County Road 43 at Drake. U.S. 34 from County Road 29 (base of canyon) to Mall Road in Estes Park will be closed to through traffic approximately 12 p.m. to 3 p.m. Resident traffic will be accommodated with identification. U.S. 34 must remain closed between the entry and exit of the cyclists due to the anticipated speed of the race. Parking is allowed in designated parking areas, off the pavement, in the canyon.

County Road 43 from Drake to Glen Haven to MacGregor Avenue in Estes Park. Starting at 8 a.m. there will be limited access on County Road 43, and a full closure to non-resident vehicles may be enacted if necessary. Bikes and pedestrians will be allowed.

Wonderview Avenue from MacGregor Avenue to U.S. 34/36 intersection; Elkhorn Avenue to Moraine Avenue; Moraine Avenue to Marys Lake Road; Highway 7 to North Saint Vrain Avenue/U.S. 36, U.S. 34/36 downtown to Big Thompson Avenue/U.S. 34 east through the Big Thompson Canyon.
To accommodate special events and the race, Elkhorn Avenue from U.S. 34/36 to Moraine Avenue and Moraine Avenue from Elkhorn Avenue to Crags Drive will be closed approximately 9 a.m. until pedestrians have cleared mid- to late-afternoon.
The entire race route from MacGregor Avenue at Evergreen Lane through the rest of the route to U.S. 34 at Mall Road will be closed at approximately 12:30 p.m. to clear streets for the race. It will reopen sequentially as the race passes, with the exception of downtown, as noted above.
Map of the race route and important locations is available
here
.
Detours: Watch for detour signs. Within town, Fish Creek Road, Riverside Drive and Moccasin Circle Drive will be alternatives to closed streets. U.S. 36 to Lyons is recommended when leaving Estes Park; if exiting Rocky Mountain National Park, follow detour signs.

For information about Rocky Mountain National Park please call the park's Information Office at (970) 586-1206.
Last updated: August 1, 2013