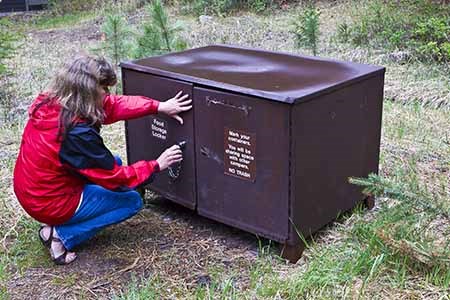 Bears are active April through November every year. Don't attract wildlife, including black bears, to campsites because of improperly stored food. Bears can visit any time of day!
Never leave food items unsecured or unattended. Improperly stored or unattended food items will result in a violation notice.
"Food items" include food, drinks, toiletries, cosmetics, pet food and bowls, and odoriferous attractants. Garbage, including empty cans, food wrappers, etc., must be stored or disposed of in trash or recycling receptacles.
All coolers ( even those considered "bear proof" such as Yeti) must be stored away or secured when the site is unoccupied or not attended.
Hummingbird feeders and bird feeders are attractants for wildlife such as raccoons, elk, deer, and bears, and are not allowed in campgrounds.
Coolers, dirty stoves, grills, non-disposable tableware and cookware must be washed and stored in the same manner as food.
Camp kitchens must be kept clean and individual items properly stored.
Remember, toiletries attract wildlife and need to be properly stored when not in use (in bear-proof food storage locker or in hard-sided vehicle out of sight with windows rolled up and doors locked).