RMNP Employee Alumni Reunion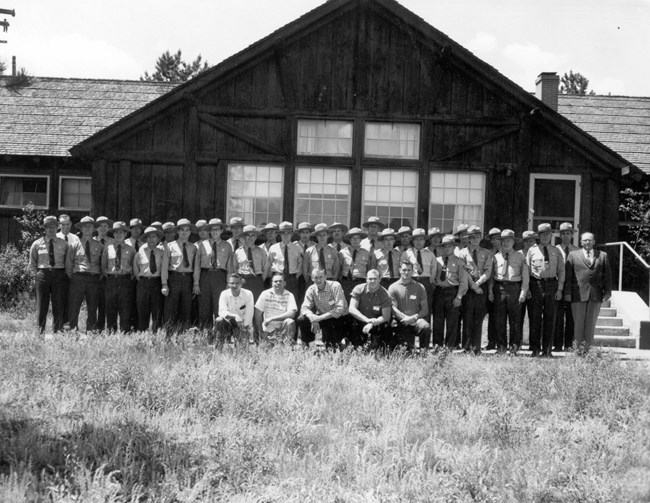 Were you a paid employee or intern at Rocky Mountain National Park? On September 18-19, 2015, an Employee Alumni Reunion will be held at the YMCA of the Rockies. Come re-discover the park and connect with friends old and new!
Reunion events will be held at the YMCA of the Rockies. Specific location to be announced.
REGISTRATION:
To register for the Employee Alumni Reunion, please fill out this form. A $10 fee paid at check in will cover all events and a complimentary reunion mug. If you are attending with another employee, please fill out separate registration forms. Return the form by email to ROMO_100th_Anniversary@nps.gov or by mail to Anniversary Coordinator, Rocky Mountain National Park, 1000 U.S. Highway 36, Estes Park, CO 80517.
If you have any questions or ideas for the reunion, please e-mail us .
FINAL SCHEDULE:
Please join us for social events and reconnect with RMNP employees from the past. This schedule is tentative and will be confimed soon.
Friday, September 18
4-6pm Check In (this has changed from the tenatative schedule)
4-6pm Cocktail hour featuring entertainment by Cowboy Brad
8-10pm Optional: Rocky Mountain Team Trivia, The Living Dream film by Nick Molle

Saturday, September 19
4-6pm Check In
5-6pm Happy Hour
6-7pm BBQ Buffet Dinner
7:00-9pm Key Note speaker and viewing of Centennial Film: Wilderness, Wildlife, Wonder.


Who's Coming So Far?
The following people are registered to attend the Reunion:
Gene Admire, 1967-1992
Juli Ames-Curtis, 2007-2012
Joe Arnold, 1981-2013
Bob Ault, 1990-2004
Stan Austin, 2005-2008
Craig Axtell, 1985-2000
Vaughn Baker, 2002-present
Andy Banta, 1978-1979
Wayne Bates, 1950-1952, 1956-1958, 1960-1983
Scot Bowen, 1983-1987, 1993-1999
Michele Bratschun, current employee
Jim Bredar, 1976-1980
Karen Brna, current employee
Sharon Brubaker, 1990-2015
Emi Hirabayashi Buck, 1985-1992
Kerry Buck, 1987-1992
Anna Marie Burden, 1977-1983
Doug Buttery, 2000-2008, 2013
Susie Buttery, 2001-2008, 2010-present
James Campbell
Jim Campbell, 1973-1978
Todd Chamberlin, 1994, 1997-2000
John Chapman, 1960-1964, 1996-1998
Jim Cheatham, 2008-2014
Joan Childers, 1992-2008
Kathy Clark, 1975-1979
Dale Coker, 1984
Howard Cole, 1985-1989
Larry Collins, 1954-1988
Jeff Connor, 1987-2013
Karl Cordova, 1998-2008
Carol Cross, 1992-2008
Ken and Pati Czarnowskli, 1991-2003
Drew Davis, 1977-78
Philip Dendel, 1989-1992
Judy Elder, current employee
Megan Evans, current employee
Rich Fedorchak, 2013-present
Sheri Fedorchak, 2013-present
Frank Fiala, 1978-1989
Joe Fischer, 2002-2003
Cathy Foley, 1987-1988
Mitch Fong, 1991-2000
Emily Dixon Fose, 1970-1974
Larry Frederick, 1972, 1973, 1976, 2001-2013
Larry Gamble, 1992-present
Sharon L. Gladman, 1980, 1981, 2001
Liz Glocker, 1995-1999
Daniel N. Gosset, 1974-1980
Donna Govan, 1996-present
Tom and Linda Griffiths, 1958-1968
Rick Guerrieri
George Hackman, 1967-1982, 1988-2012
Teddie Haines, 1957-1980
Laura Harger, 1999-2008
Margie Hauswer, 1981-1996, 2014-present
Phil Heckman, 2007-2012
Josh Heise, 2004-2007
Jackie Henman, 1983-1988
Casey Henrikson, 1994-1997
Rik Henrikson, 1992-1994
Chelsea Hernandez, current employee
Daniel Hess, 1993-1995
Norman Hinson, 1960-1961
Kris Holien, 1979-2011, 2014-present
Robert Howard, 1983-1987
Monte Hurt, 1984, 1986
Jeremiah Hyslop, 1997-2000
Marilyn Irwin, 1993-2015
Arnold Johnson, 1973-1994
Therese Johnson, 1993-present
Mary Karraker, 1980-1983
Quinn Kawamoto
Kathleen Kelly, 2005-2011
Kraig Kerns, 2005-2009
Michelle Kerns, 2000-2009
Gayle Kingery, 1988-1994
Jay Kirkpatrick, 1961-1967
Amnesty Kochanowski, 2001-2011
Al Koss, 1988-1989
Dennis and Penny Knuckles, 1976-1979
Sue Langdon
Cynthia Langguth, 1998-2005, 2009-present
Betty Lieurance, 1990-1999
Jane Lopez
Gina Lux, 2002-2003
Mark Magnuson, 1978-1984, 2000-present
Jody Magnuson, 1973-1994
Bob Maitland, 2001-present
Krislen Maitland, 1993-2008, 2014-present
Jeff Manley, 1986-1988
Connie Marcy
Randy Marcy, 1978-1981, 1985-1991
Paul McLaughlin, 1986-1989, 2007-present
Patrick McNulty, 2008-present
Colleen Johnson Minard, 1984-2014
Jean Muenchrath, 1985 - present
David Noe, 1972-1980
Sue O'Connor, 1977-2010
Danny O'Neal, 1974-1989
Kyle Patterson, 2001 - present
Gina Pearson, 1992-1996
Karl Pearson, 1992-1996
Deb Pfenninger, 2013-present
Tim Phillips, 2000 - present
Rebecca Port,
Jim Protto, 1975-1999
Heather Quint, 2005-present
William Quisenberry III, 1962-1966
Patrick Reed, 1983-1986
Pat Reeder, 1958-1960
Jane Richards, 1981-1994, 2006-present
Mick Richards, 1988-1994, 2006-present
Douglas Ridley, 1977-1979, 1992-2003
Vivian Ridley, 1979, 1993-2003
Jean Rodeck, 1955, 1966
Connie Rudd, 1986-1987
Nancy Rudeen, 1974-1981
Ben Sanchez, 1999-2005, 2009-present
Michael Sanders, 1974-1978
J.R. Schnelzer, 1984-1989
Bryan Scott, 2014-present
Shafer, Patty, current employee
Amy Sidener, 1989-1990
Lyle Sidener, 1987-1990
Larry Van Slyke, 1963-1981
Henry J. Smith, 1968-1989
Kevin Soviak, 1998-present
Clark Spalsbury
Leslie Spurlin, 1974-1975
Charles Stalker, 1978-present
Bill Stebbins, 1977-1983
Sheridan Steele, 1982-1989
David Stevens, 1968-1992
Katy Wolf Sykes, 1977 - 79, 1981, 1997 - present
Barry and Joan Sweet, current employee
Norman Tempel, 1959
Orville Thomas, 1955-1988
Bill Thompson, 1999-2013
James Thompson, 1961-1965, 1984-1993
Gary Thrash, 1970-1975
Mike Todd, 1981-1991
Michelle Uhr, 1988-1990
Doug Watry, 1996-present
Mary Kay Watry, 1993-present
Meg Weesner, 1975-76
Patti Wermeling, 1986-87
Mary Wilson, 1989-1996
Cheri Yost, 2000-2010
Phil Zichterman, 1976-1985
























Last updated: January 11, 2023