Aspen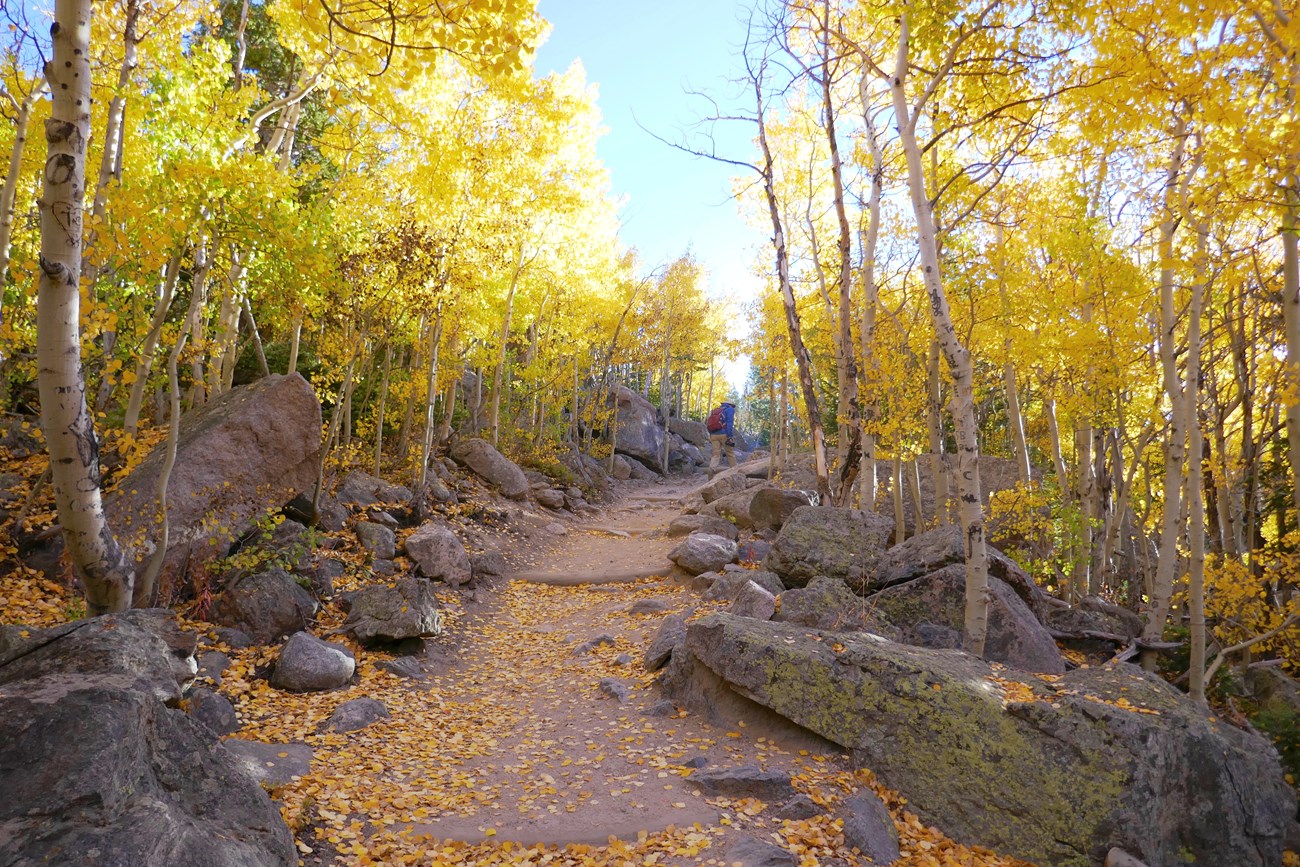 The Color Change
The quaking aspen and its trembling leaves are still a source of wonder. The key to their fall colors hues lies not in myth, but in the natural environment.
The color changes start first in the subalpine zone (9,000-11,000 feet elevation) in early September. Progressively, changes reach the montane zone (5,600-9,500 feet) by mid-month. Weather can dictate a good or poor year for color, and the fall display can last from days to weeks.
Why the Vivid Colors?
The scientific explanation is based on variations in temperature, moisture, and light. These factors set internal chemical changes in motion.
A close examination of aspen buds in springtime reveals many hues hidden within the leaves. As the foliage matures, chlorophyll, the green pigment, carries on photosynthesis, converting sunshine into food and energy. In doing so, the green chlorophyll dominates all other colors.
The diminished light temperatures of fall trigger the break down of chlorophyll. As green colors fade, yellow, orange, and red pigments--carotenoids and xanthophylls--are unmasked.
The radiant red to nearly blue colors are produced by anthocyanin. This pigment appears when sugars are concentrated in the leaves. Ideal conditions of sunny days and cool nights produce the choicest spectrum.
Lifecycle
Quaking aspens (Populus tremuloides) provide beautiful scenery and a rich habitat for wildlife. Aspens, the most widely distributed tree in North America, are one of the few deciduous trees hearty enough to survive in a harsh mountain environment
In mountain environments, the brief growing season often prevents aspen seeds from germinating. Instead, an aspen's lateral roots produce vertical shoots, called suckers. Some suckers grow into mature trees, creating a large network of interconnected roots that can produce new trees for over a thousand years. A patch of genetically identical trees, a "clone", will sprout new buds and change colors at the same time.
Flourishing aspens provide shade for young spruce and fir trees. These conifers grow and eventually replace aspen forests. Long after the visible portion of the aspen tree is gone, the underground root system remains behind patiently waiting for a disturbance from fire, avalanche, or other occurrence that removes the conifer forest. If the sun's warmth touches the soil, it will stimulate the aspen's dormant root system, starting another cycle of this pioneering specie.
Aspen Habitat
Quietly sit in an aspen grove, and watch the forest spring to life. High in the trees, woodpeckers hollow out cavities in the soft aspen bark while looking for insects. Leftover holes soon become an apartment house for nesting sapsuckers, bluebirds, swallows, and other species.
Fallen aspen leaves, plant matter, and feces collect on the forest floor attracting insects and other invertebrates. Small leaf fragments and feces left behind are further decomposed by bacteria and fungi. The soil is enriched by mineral nutrients and decomposed organic material, permitting a rich, diverse understory.
Deer and elk seek rest, cover, and forage in tall understory shrubs. Mothers hide their calves in brush while grazing and browsing nearby. Aspen bark provides an extra food source in winter for browsing elk.
Suggested Aspen Viewing Areas
| | |
| --- | --- |
| Hidden Valley | Aspens dominate the southeast facing hillside on Hwy. 34 (7 miles from park headquarters), just west of the Beaver Ponds Boardwalk. |
| Bear Lake Road | This is a very popular location for viewing color. Alberta Falls is a 1.2 mile round-trip hike abounding with fall sights and scents. |
| Fern & Cub Lake Trails | These trails in Moraine Park off the Bear Lake Road provide easy hiking and aspen viewing. |
| Twin Sisters | See the "Butterfly Burn" on the west slope of the peak 7 miles south of Estes Park on Colorado Hwy. 7. |
| Long's Peak | Travel south 8 miles on Colorado Hwy. 7 to see fall colors on the lower flanks of the peak. |
| Wild Basin | Drive to the Finch Lake Trailhead and hike for a distance of 1 1/2 miles one-way into the aspen forest. |
| East Inlet Trail | A 3 mile one-way hike on this trail leads to spectacular fall color. |
| Kawuneeche Valley | Drive through more than ten miles of prime aspen country along TRAIL RIDGE Road. Start at Grand Lake and travel to just North of the Timber Lake Trailhead. |
| Farview Curve | At 10,000 feet elevation, this overlook provides a good panorama of the Kawuneeche Valley and the Never Summer range. |
Last updated: September 21, 2020