Park's Historic Buildings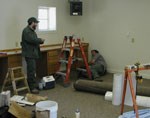 On you visit to Rocky Mountain National Park, did you stop at Holzwarth Never Summer Ranch? Most likely you did because it is the most visited historic site in the park. Similarly, many visitors stop at Moraine Park Museum, which is housed in the former assembly hall of the Moraine Park Lodge. At Holzwarth Ranch and at Moraine Park, historic buildings have been preserved to allow visitors to experience some of Rocky Mountain National Park's cultural history. But historic buildings in the park are used for more than just museums. Park staff uses many other historic structures for offices, workshops, barns, and housing.
A historic building is listed on or eligible for listing on the National Register of Historic Places, the nation's official list of cultural resources. All the public and private buildings found on its rolls have been evaluated and documented according to uniform standards established by the National Park Service. Once listed, a public building can not be dramatically altered without approval from the State Historic Preservation Officer (SHPO).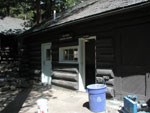 After fifty or more years of use, a building - especially one used everyday to work and live - must be altered to meet new safety guidelines, technological advances, and growing visitation and staffing needs. But these changes must be done without destroying the building's historic features and setting. Rocky Mountain National Park's facility management division has a team of historic preservation specialists who restore and rehabilitate the park's historic buildings, following the national guidelines and with the approval of the SHPO. A recent project is rehabilitating the Bighorn Ranger Station, creating a comfortable office space for park rangers and making the building compliant with the Americans with Disabilities Act. While the interior of the building has been changed and modernized, the exterior will be preserved just as it was built (as a garage) in 1936.
The next time you visit Rocky Mountain National Park, take notice of the many historic buildings within its borders. You can discover for yourself the intriguing slices of the park's on-going cultural history.

Last updated: March 31, 2012