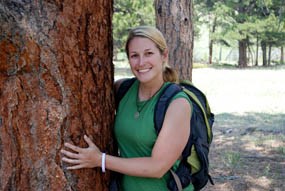 Introduction
My name is Elizabeth and I am working as one of the Teacher-Ranger -Teachers in Rocky Mountain National Park for the Summer 2011 season. I am very excited and feel honored to be a part of the National Park Service. I am working with the environmental education team to deliver educational programs to various school, scout, and local audiences.
Purpose
Reflect on my experiences as a RMNP Teacher-Ranger-Teacher
Brainstorm ways in which to bringinterpretation techniques and environmental education topicsinto my classroom
Inform other teachers of the opportunities that are associated with being a teacher ranger teacher
About me
I attended Southern Illinois University and graduated with a Bachelors of Science in Biological Sciences from the school of Education in 2004.I taught biology at a high school in the western suburbs of Chicago for the next three years. During that time, I was also a co field instructor for an Adventure Studies course that was both created and facilitated by a coworker. It was there that I truly realized the importance of experiential education and the profound impact it can have on students.
During the summers in 2007 and 2008, I worked for the YMCA of the Rockies in Estes Park, Colorado. I gained knowledge of the Front Range area and of RMNP as well as met many people from all over the world that had a common interest in the beauty and recreational opportunities that these mountains could provide. I immediately saw the opportunity for local students to learn through these abundant natural areas that were essentially in their backyard.
I started working in the Denver Metro area as a high school biology teacher in 2008. In 2009, I started a graduate program at the University of Colorado Denver. The program I chose has helped me to further develop my teaching style to incorporate more inquiry, kinesthetic, and experiential learning for my students. I am hoping to culminate the program in the fall by developing a curriculum for an environmental adventure club at my school.
In this blog I will share my experiences and ideas about teaching, nature interpretation, and nontraditional education. I will include three sections per post: What I did, What I learned, and Reflection. I will also include pictures as a way to help document my experiences.

---