Wilson's Warbler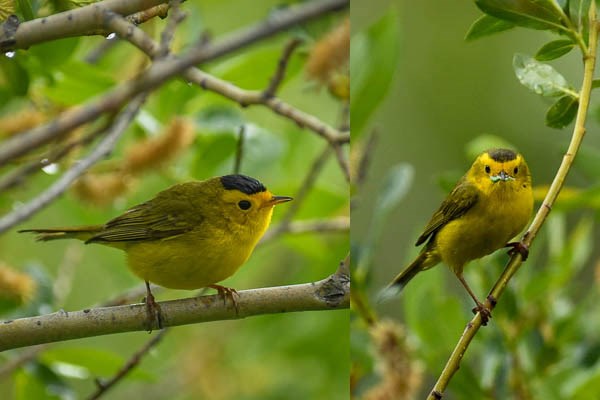 Size:
4-5"
Description:
Bright yellow below and yellowish olive above. Males have a distinctive black cap, while adult females have an olive to black crown.
Migratory Status:
Summer residents of Rocky Mountain National Park.
Habitat:
Breed in willow thickets of lakeshores, stream banks and wet meadows at or just above timberline to 11,500 feet and occasionally 13,000 feet.
Diet:
Eat mostly insects that they glean from the leaves and branches of deciduous trees and bushes.
Wilson's Warbler (song)

Wilson's Warbler song recorded on the Fern Lake Trail in Rocky Mountain National Park.

Credit / Author:

J. Job

Date created:

10/14/2020
Wilson's Warbler (song)

Wilson's Warbler song recorded at the Alluvial Fan in Rocky Mountain National Park. Note that a Wilson's Warbler call, the buzz of a hummingbird flying by and a Pine Squirrel can also be heard in the recording.

Credit / Author:

J. Job

Date created:

10/14/2020
Wilson's Warbler (song)

Wilson's Warbler song recorded at the Alluvial Fan in Rocky Mountain National Park. Note that a Wilson's Snipe, House Wren, Broad-tailed Hummingbird and Lincoln's Sparrow can also be heard in the background.

Credit / Author:

J. Job

Date created:

10/14/2020
Last updated: July 19, 2018