Wilson's Snipe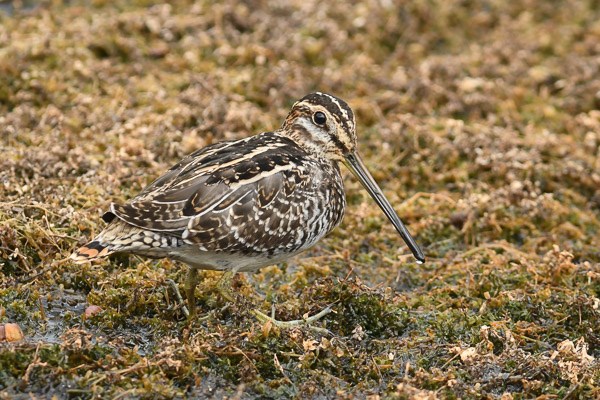 Size:
10.5-12.5"
Description:
Mostly brown and white with buff to brown stripes, bars and spots on the upperparts, and white belly.
They are most easily detected by their winnowing flight display around dawn and dusk.
Migratory Status:
Spring and fall migrants to Rocky Mountain National Park.
Habitat:
Prefer moist areas to 10,500 feet.
Diet:
Eat mostly aquatic invertebrates that they find by probing their long beak into the mud along the shores of streams, marshes, bogs and wet meadows.
Wilson's Snipe (call)

Wilson's Snipe call recorded in Moraine Park in Rocky Mountain National Park.

Credit / Author:

J. Job

Date created:

10/14/2020
Wilson's Snipe (call)

Wilson's Snipe call recorded at the Alluvial Fan in Rocky Mountain National Park.

Credit / Author:

J. Job

Date created:

10/14/2020
Wilson's Snipe (wing sounds and call)

Wilson's Snipe wing sounds and call recorded at Moraine Park in Rocky Mountain National Park. Note that a Red-winged Blackbird can also be heard in the background.

Credit / Author:

J. Job

Date created:

10/14/2020
Wilson's Snipe (wing sounds)

Wilson's Snipe sounds produced from air passing over the tail feathers during a dive. Note that the call of a Wilson's Snipe, a Red-winged Blackbird and the buzz of a hummingbird flying by can also be heard in the recording.

Credit / Author:

J. Job

Date created:

10/14/2020
Wilson's Snipe (call)

Wilson's Snipe call recorded in Moraine Park in Rocky Mountain National Park. Note that faint wing sounds can also be heard at end of the recording.

Credit / Author:

J. Job

Date created:

10/14/2020
Last updated: August 23, 2018