Williamson's Sapsucker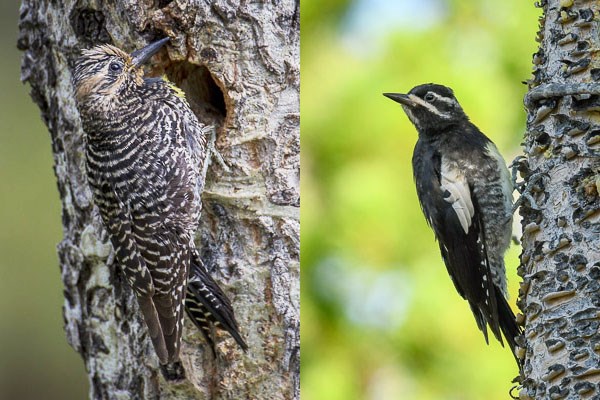 Size:
8.5-10"
Description:
The male is mostly black with white barring on the back and wings, two white stripes on the face, white wing patch, red throat, yellow belly and a white rump that can be seen in flight. The female is brownish overall with white barring on the wings, a brown head, black breast and yellow belly.
Migratory Status:
Summer residents of Rocky Mountain National Park.
Habitat:
Breed in ponderosa pine, aspen and other coniferous forests to 9,000 feet and occasionally 11,000 feet.
Diet:
Drill holes in tree bark and eat the sap that oozes from the holes as well as insects that get caught in the sap.
Williamson's Sapsucker (drum)

Williamson's Sapsucker drum recorded at Hollowell Park in Rocky Mountain National Park. A Yellow-rumped (Audubon's) Warbler, Pine Siskin and Pine Squirrel can also be heard in the recording.

Credit / Author:

J. Job

Date created:

10/14/2020
Last updated: August 23, 2018