White-crowned Sparrow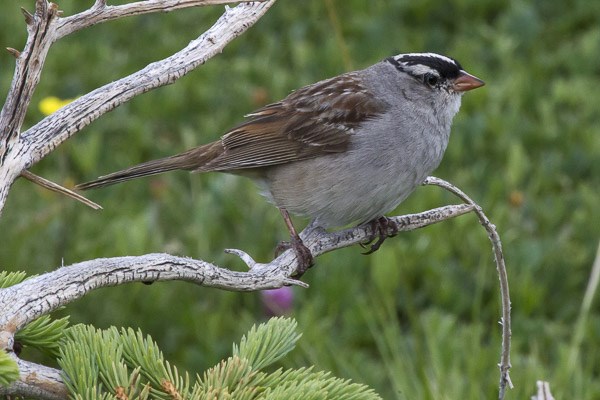 Size:
6-7"
Description:
Streaked brown and black overall with white stripes on the head, and a pale pink or yellow bill. Juveniles have brown instead of black markings on the head.
Migratory Status:
Summer residents of Rocky Mountain National Park.
Habitat:
Breed in riparian willow shrublands, bushy meadows and krummholz to 12,000 feet.
Diet:
Eat mostly seeds and some insects that they glean by scratching on the ground.
White-crowned Sparrow (song)

White-crowned Sparrow song recorded in Moraine Park in Rocky Mountain National Park.

Credit / Author:

J. Job

Date created:

10/14/2020
White-crowned Sparrow (song)

White-crowned Sparrow song recorded in Moraine Park in Rocky Mountain National Park. Note that the buzz of a hummingbird flying by can also be heard in the recording.

Credit / Author:

J. Job

Date created:

10/14/2020
White-crowned Sparrow (song)

White-crowned Sparrow song recorded at Medicine Bow Curve in Rocky Mountain National Park.

Credit / Author:

J. Job

Date created:

10/14/2020
White-crowned Sparrow (song)

White-crowned Sparrow song recorded in Moraine Park in Rocky Mountain National Park. Note that a Savannah Sparrow can also be heard in the recording.

Credit / Author:

J. Job

Date created:

10/14/2020
White-crowned Sparrow (song)

White-crowned Sparrow song recorded at Moraine Park in Rocky Mountain National Park.

Credit / Author:

J. Job

Date created:

10/14/2020
Last updated: June 8, 2018