Western Tanager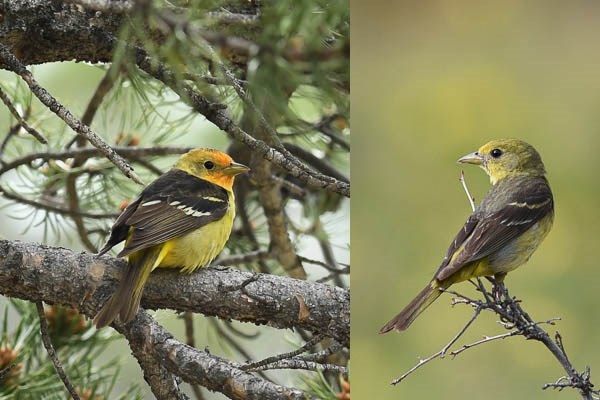 Size:
6.5-7.5"
Description:
Male is bright yellow overall with an orange-red head, black wings, yellow shoulder and white wing bar. The female is yellow-green overall with two white wing bars.
Migratory Status:
Summer residents of Rocky Mountain National Park.
Habitat:
Breed in ponderosa pine and Douglas-fir forests to 9,000 feet and occasionally 10,500 feet.
Diet:
Eat mostly insects that they catch in mid-air or glean from tree leaves and branches.
Western Tanager (song)

Western Tanager song recorded on the Bridal Veil Falls Trail in Rocky Mountain National Park.

Credit / Author:

J. Job

Date created:

10/14/2020
Western Tanager (call)

Western Tanager call from two birds recorded at the Beaver Ponds in Rocky Mountain National Park.

Credit / Author:

J. Job

Date created:

10/14/2020
Western Tanager (song)

Western Tanager song recorded on the Bridal Veil Falls Trail in Rocky Mountain National Park.

Credit / Author:

J. Job

Date created:

10/14/2020
Western Tanager (song)

Western Tanager song recorded on the Cub Lake Trail in Rocky Mountain National Park.

Credit / Author:

J. Job

Date created:

10/14/2020
Western Tanager (song)

Western Tanager song recorded on the Bridal Veil Falls Trail in Rocky Mountain National Park.

Credit / Author:

J. Job

Date created:

10/14/2020
Western Tanager (song)

Western Tanager song recorded on the Cow Creek Trail in Rocky Mountain National Park. Note that a Dusky Flycatcher, Pine Squirrel and the buzz of a hummingbird flying by can be heard in the background.

Credit / Author:

J. Job

Date created:

10/14/2020
Western Tanager (song)

Western Tanager song recorded at Hollowell Park in Rocky Mountain National Park. Note that the buzz of a hummingbird flying by can also be heard in the recording.

Credit / Author:

J. Job

Date created:

10/14/2020
Western Tanager (song)

Western Tanager song recorded in the East Inlet area of Rocky Mountain National Park. Note that a Western Wood-Pewee can also be heard in the recording.

Credit / Author:

J. Job

Date created:

10/14/2020
Last updated: August 23, 2018