Warbling Vireo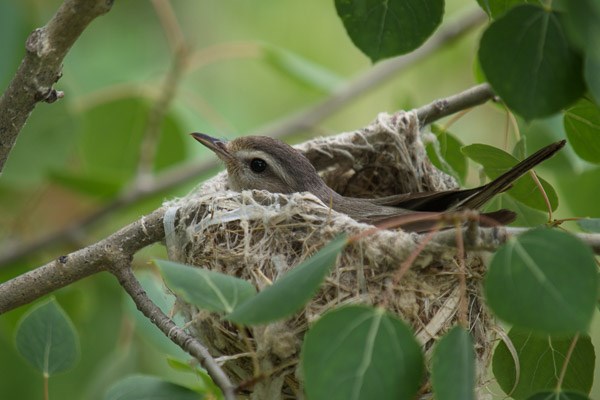 Size:
4.5-5.5"
Description:
Gray-olive above, yellow to white below, and white above and below the eye.
Migratory Status:
Summer residents of Rocky Mountain National Park.
Habitat:
Live in aspen and foothill riparian forests, and urban areas to 10,500 feet.
Diet:
Eat mostly insects and sometimes berries that they forage by inspecting the leaves of deciduous trees.
Warbling Vireo (song)

Warbling Vireo song recorded on the Cub Lake Trail in Rocky Mountain National Park.

Credit / Author:

J. Job

Date created:

10/14/2020
Warbling Vireo (song)

Warbling Vireo song recorded on the Bridal Veil Falls Trail in Rocky Mountain National Park.

Credit / Author:

J. Job

Date created:

10/14/2020
Warbling Vireo (song)

Warbling Vireo song recorded on the Fern Lake Trail in Rocky Mountain National Park. Note that the buzz of a hummingbird flying by can also be heard in the recording.

Credit / Author:

J. Job

Date created:

10/14/2020
Warbling Vireo (song)

Warbling Vireo song recorded on the Fern Lake Trail in Rocky Mountain National Park. Note that the buzz of a hummingbird flying by and Chipping Sparrows can be heard in the background.

Credit / Author:

J. Job

Date created:

10/14/2020
Warbling Vireo (song)

Warbling Vireo song recorded in the East Inlet area of Rocky Mountain National Park. Note that the buzz of a hummingbird flying by and a Western Wood-Pewee can be heard in the background.

Credit / Author:

J. Job

Date created:

10/14/2020
Last updated: June 11, 2018