Townsend's Solitaire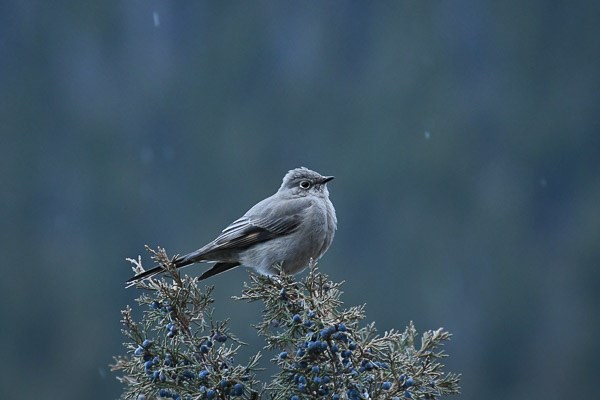 Size:
8-9"
Description:
Mostly gray overall with prominent white eye rings. Juveniles are dark gray overall and are heavily spotted with buff and white.
Migratory Status:
Year-round residents of Rocky Mountain National Park.
Habitat:
Live in coniferous woodlands and forests near berry shrubs and trees to 12,000 feet in summer and 9,000 feet in winter.
Diet:
Eat mostly insects and berries (especially juniper berries) and forage by catching insects in mid-air or by gleaning berries from bushes or the ground.
Townsend's Solitaire (call)

Townsend's Solitaire call recorded on the Hollowell Park Trail in Rocky Mountain National Park. Note that a Golden Crowned Kinglet can be heard in the background.

Credit / Author:

J. Job

Date created:

10/14/2020
Townsend's Solitaire (song)

Townsend's Solitaire song recorded in Hollowell Park in Rocky Mountain National Park. Note that the buzz of a hummingbird flying by can be heard in the background.

Credit / Author:

J. Job

Date created:

10/14/2020
Townsend's Solitaire (song)

Townsend's Solitaire song recorded on the Black Canyon Trail in Rocky Mountain National Park. Note that various unidentified birds and a Pine Squirrel can be heard in the background.

Credit / Author:

J. Job

Date created:

10/14/2020
Townsend's Solitaire (call)

Townsend's Solitaire call recorded on the Black Canyon Trail in Rocky Mountain National Park. Note that various unidentified birds can also be heard in the background.

Credit / Author:

J. Job

Date created:

10/14/2020
Last updated: June 8, 2018