Steller's Jay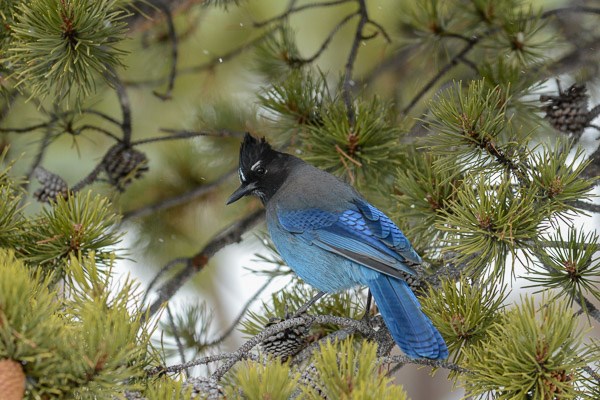 Size:
8.5-13.5"
Description:
Dark overall with a black head and crest, gray shoulders, blue checkered wings, a lighter blue body, long blue and black tail, and small white streaks above the eyes and on the forehead.
Migratory Status:
Year-round residents of Rocky Mountain National Park.
Habitat:
Live in ponderosa pine, Douglas-fir and other coniferous forests to 12,000 feet in summer and 9,000 feet in winter.
Diet:
Eat a variety of nuts, seeds, insects and small animals.
Steller's Jay (call)

Steller's Jay call recorded at Hollowell Park in Rocky Mountain National Park.

Credit / Author:

J. Job

Date created:

10/14/2020
Steller's Jay (call)

Steller's Jay call recorded at Hollowell Park in Rocky Mountain National Park.

Credit / Author:

J. Job

Date created:

10/14/2020
Steller's Jay (song)

Steller's Jay song recorded at the Alluvial Fan in Rocky Mountain National Park.

Credit / Author:

J. Job

Date created:

10/14/2020
Steller's Jay (call)

Steller's Jay call recorded on the Green Mountain Trail in Rocky Mountain National Park.

Credit / Author:

J. Job

Date created:

10/14/2020
Steller's Jay (call)

Steller's Jay call recorded in Hollowell Park in Rocky Mountain National Park. Note that a Ruby-crowned Kinglet can also be heard in the recording.

Credit / Author:

J. Job

Date created:

10/14/2020
Steller's Jay (call)

Steller's Jay call from two birds recorded in the Twin Owls area of Rocky Mountain National Park. Note that an American Robin, Clark's Nutcracker, Broad-tailed Hummingbird and Violet-green Swallow can also be heard in the recording.

Credit / Author:

J. Job

Date created:

10/14/2020
Steller's Jay (song)

Steller's Jay song recorded at the Alluvial Fan in Rocky Mountain National Park. Note that a Broad-tailed Hummingbird can also be heard calling in the recording.

Credit / Author:

J. Job

Date created:

10/14/2020
Last updated: June 8, 2018