Ruby-crowned Kinglet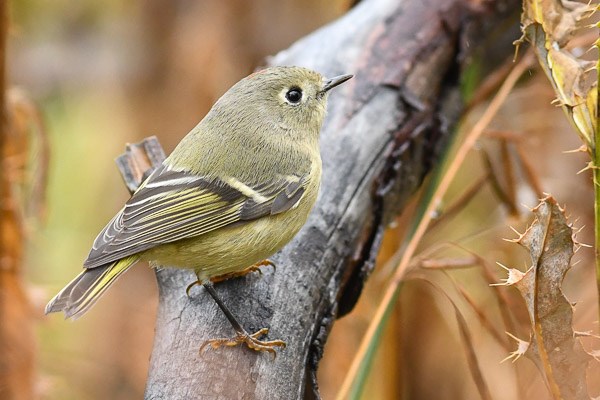 Size:
3.5-4.5"
Description:
Olive-green overall with light yellow belly, a prominent white eye ring, and white and black wing bars. The male has an inconspicuous patch of ruby feathers on the crown.
Migratory Status:
Late spring and summer residents of Rocky Mountain National Park.
Habitat:
Breed in spruce-fir and other coniferous forests to 11,000 feet.
Diet:
Eat mostly insects that they glean from the needles of coniferous trees.
Ruby-crowned Kinglet (song)

Ruby-crowned Kinglet song recorded at Mill Creek Basin in Rocky Mountain National Park.

Credit / Author:

J. Job

Date created:

10/14/2020
Ruby-crowned Kinglet (song)

Ruby-crowned Kinglet song recorded on the Fern Lake Trail in Rocky Mountain National Park.

Credit / Author:

J. Job

Date created:

10/14/2020
Ruby-crowned Kinglet (song)

Ruby-crowned Kinglet song recorded on the Cow Creek Trail in Rocky Mountain National Park. Note that the buzz of a hummingbird flying by can also be heard in the recording.

Credit / Author:

J. Job

Date created:

10/14/2020
Last updated: June 8, 2018