Red-winged Blackbird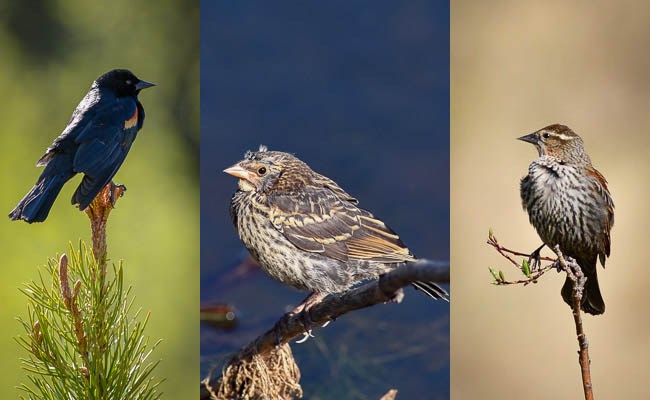 Size:
6.5-9"
Description:
Males are glossy black with red-and-yellow shoulder badges. Females and juveniles are brownish overall with pale streaks and a yellowish wash around the beak.
Migratory Status:
Late spring and summer residents of Rocky Mountain National Park.
Habitat:
Live in marshes, wet meadows and wooded riparian areas to 9,000 feet and occasionally 11,000 feet.
Diet:
Eat a variety of insects and seeds and often forage by prying at the base of aquatic plants.
Red-winged Blackbird (song and call)

Red-winged Blackbird song and call recorded on the Cub Lake Trail in Rocky Mountain National Park. Note that an American Robin, Ruby-crowned Kinglet, Wilson's Snipe, House Wren and the buzz of a hummingbird flying by can also be heard in the recording.

Credit / Author:

J. Job

Date created:

10/14/2020
Red-winged Blackbird (song and call)

Red-winged Blackbird song and call recorded in Moraine Park in Rocky Mountain National Park. Note that Western Chorus Frogs and the buzz of a hummingbird flying by can also be heard in the recording.

Credit / Author:

J. Job

Date created:

10/14/2020
Last updated: June 8, 2018