Pygmy Nuthatch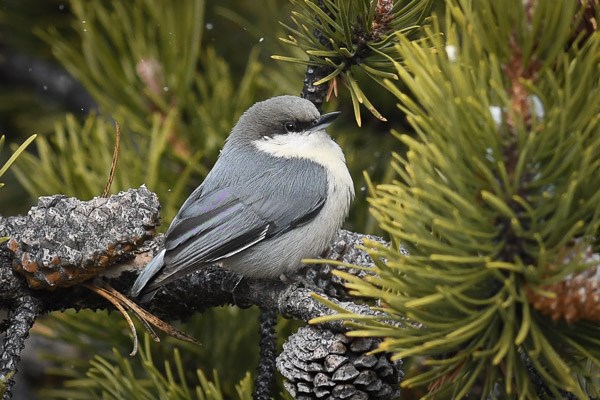 Size:
3.5-4.5"
Description:
Mostly slate gray on the back and wings, white to cream on the chin, chest and belly, and a brown to gray cap that extends through the eye.
Migratory Status:
Year-round residents of Rocky Mountain National Park.
Habitat:
Prefer ponderosa pine forests but also live in aspen forests to 9,000 feet.
Diet:
Eat seeds and insects that they glean from the trunk, branches and needle tips of pine trees.
Pygmy Nuthatch (call)

Pygmy Nuthatch call recorded in Upper Beaver Meadows in Rocky Mountain National Park.

Credit / Author:

J. Job

Date created:

10/14/2020
Pygmy Nuthatch (call)

Pygmy Nuthatch call recorded in Upper Beaver Meadows in Rocky Mountain National Park.

Credit / Author:

J. Job

Date created:

10/14/2020
Pygmy Nuthatch (call)

Pygmy Nuthatch call recorded in Upper Beaver Meadows in Rocky Mountain National Park. Note that a Northern Flicker and a White-breasted Nuthatch can also be heard in the background.

Credit / Author:

J. Job

Date created:

10/14/2020
Last updated: June 20, 2018