Pine Siskin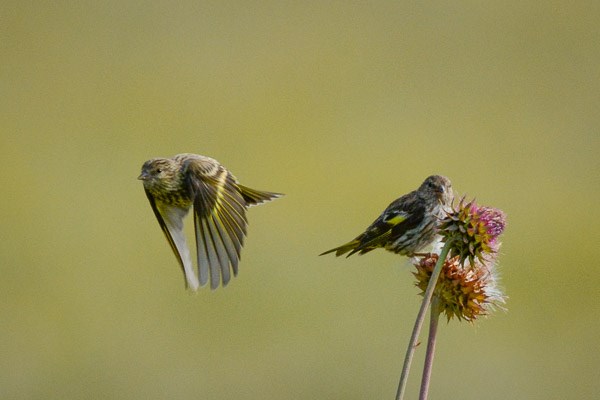 Size:
4-5.5"
Description:
Gray-brown overall with heavy streaking on the back, breast and belly. They also have subtle yellow edgings on the wings and tails.
Migratory Status:
Year-round residents of Rocky Mountain National Park.
Habitat:
Live in spruce-fir and other coniferous forests, riparian areas, shrublands and urban areas to 11,000 feet.
Diet:
Eat mainly coniferous seeds, but also eat grass and flower seeds, and insects.
Pine Siskin (song)

Pine Siskin song recorded on the Bridal Veil Falls Trail in Rocky Mountain National Park.

Credit / Author:

J. Job

Date created:

10/14/2020
Pine Siskin (song)

Pine Siskin song recorded on the Bridal Veil Falls Trail in Rocky Mountain National Park.

Credit / Author:

J. Job

Date created:

10/14/2020
Pine Siskin (call)

Pine Siskin call recorded on the Fern Lake Trail in Rocky Mountain National Park. Note that a Ruby-crowned Kinglet can also be heard in the recording.

Credit / Author:

J. Job

Date created:

10/14/2020
Pine Siskin (call)

Pine Siskin call recorded on the Sun Valley Trail in Rocky Mountain National Park.

Credit / Author:

J. Job

Date created:

10/14/2020
Pine Siskin (song and call)

Pine Siskin song and call recorded in Moraine Park in Rocky Mountain National Park. Note that a Green-tailed Towhee and European Starling can also be heard in the recording.

Credit / Author:

J. Job

Date created:

10/14/2020
Pine Siskin (call)

Pine Siskin call recorded along the Mill Creek Trail in Rocky Mountain National Park.

Credit / Author:

J. Job

Date created:

10/14/2020
Pine Siskin (song)

Pine Siskin song recorded on the Fern Lake Trail in Rocky Mountain National Park.

Credit / Author:

J. Job

Date created:

10/14/2020
Last updated: June 8, 2018