Northern Flicker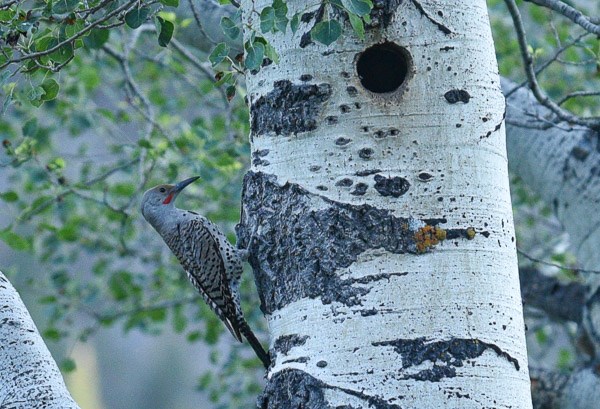 Size:
11-12"
Description:
Tan-brown overall with a gray head, black crescent on the chest, black bars on the wings, buff colored underparts with black spots, and a white rump patch that is conspicuous in flight. The "Red-shafted" Flicker is the most common subspecies in the Park, and they have orange-red on the undersides of the wing and tail feathers. Males have a bright red mustache stripe.
Migratory Status:
Year-round residents of Rocky Mountain National Park.
Habitat:
Live in a variety of habitats but prefer to breed in aspen, riparian and coniferous forests to 12,000 feet.
Diet:
Forage from the ground and from small rocks and dead trees. Eat mostly insects including ants and beetles, but also eat fruits and seeds.
Northern Flicker (call)

Northern Flicker call recorded in Moraine Park in Rocky Mountain National Park.

Credit / Author:

J. Job

Date created:

10/14/2020
Northern Flicker (rattle call)

Northern Flicker call recorded in Upper Beaver Meadows in Rocky Mountain National Park.

Credit / Author:

J. Job

Date created:

10/14/2020
Northern Flicker (call)

Northern Flicker call recorded on the Cow Creek Trail in Rocky Mountain National Park. Note that a Pine Siskin can also be heard in the recording.

Credit / Author:

J. Job

Date created:

10/14/2020
Northern Flicker (rattle call)

Northern Flicker call recorded in Moraine Park in Rocky Mountain National Park.

Credit / Author:

J. Job

Date created:

10/14/2020
Last updated: June 8, 2018