MacGillivray's Warbler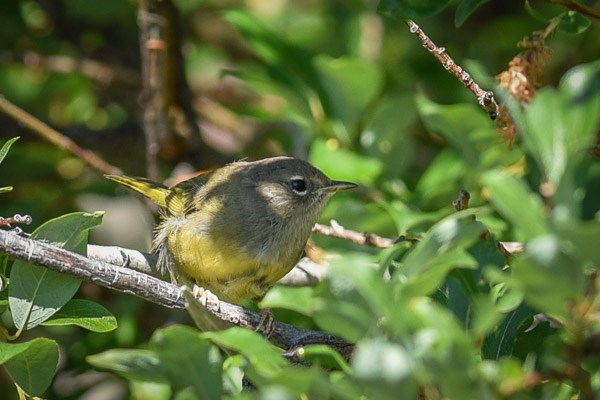 Size:
4-6"
Description:
Olive upperparts and yellow underparts. Males have a dark gray head, throat and upper breast, and white crescents above and below the eyes. Females are duller overall and have a pale gray-olive head, throat and upper breast with subtle white eye arcs.
Migratory Status:
Summer residents of Rocky Mountain National Park.
Habitat:
Breed in riparian shrublands, willow and alder thickets, and aspen forests to 10,000 feet and occasionally 12,000 feet.
Diet:
Forage from the ground and low branches, and eat insects.
MacGillivray's Warbler (song)

MacGillivray's Warbler song recorded on the Cub Lake Trail in Rocky Mountain National Park.

Credit / Author:

J. Job

Date created:

10/14/2020
MacGillivray's Warbler (song)

MacGillivray's Warbler song recorded on the Cow Creek Trail in Rocky Mountain National Park.

Credit / Author:

J. Job

Date created:

10/14/2020
MacGillivray's Warbler (song)

MacGillivray's Warbler song recorded on the Fern Lake Trail in Rocky Mountain National Park.

Credit / Author:

J. Job

Date created:

10/14/2020
MacGillivray's Warbler (song)

MacGillivray's Warbler song recorded on the Fern Lake Trail in Rocky Mountain National Park. Note that an American Robin can also be heard in the recording.

Credit / Author:

J. Job

Date created:

10/14/2020
MacGillivray's Warbler (song)

MacGillivray's Warbler song recorded on the Gem Lake Trail in Rocky Mountain National Park. Note that an American Robin can also be heard in the recording.

Credit / Author:

J. Job

Date created:

10/14/2020
MacGillivray's Warbler (song)

MacGillivray's Warbler song recorded on the Cub Lake Trail in Rocky Mountain National Park. Note that a Red-winged Blackbird can also be heard in the recording.

Credit / Author:

J. Job

Date created:

10/14/2020
MacGillivray's Warbler (song)

MacGillivray's Warbler song recorded on the Cub Lake Trail in Rocky Mountain National Park. Note that a Violet-green Swallow, House Wren and American Robin can also be heard in the background.

Credit / Author:

J. Job

Date created:

10/14/2020
Last updated: June 24, 2018