Lincoln's Sparrow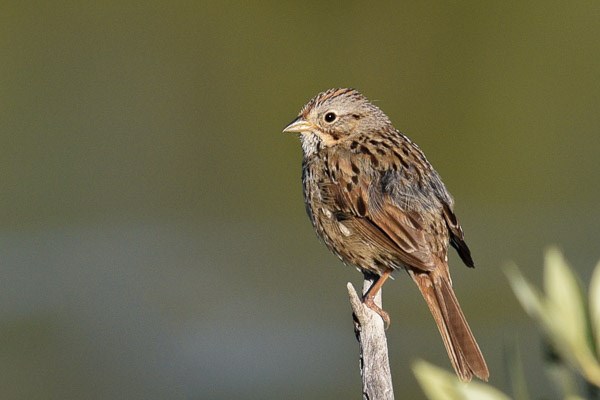 Size:
5-6"
Description:
Streaky brown, buff, and gray overall with a white belly and rusty edges along the wings and tail. They have a buff colored chest, mustache stripe and eye ring; a dark eyeline mark; and a brown, black and gray striped crown.
Migratory Status:
Summer residents of Rocky Mountain National Park.
Habitat:
Breed in riparian willow shrublands, shrubby meadows and krummholz near streams and marshes to 12,000 feet.
Diet:
Forage on the ground and eat insects such as beetles, flies and caterpillars.
Lincoln's Sparrow (song)

Lincoln's Sparrow song recorded on the Emerald Lake Trail in Rocky Mountain National Park. Note that a Pine Squirrel and a Yellow-rumped Warbler can also be heard in the background.

Credit / Author:

J. Job

Date created:

10/14/2020
Lincoln's Sparrow (song)

Lincoln's Sparrow song recorded from two different birds on the Cow Creek Trail in Rocky Mountain National Park. Note that a hummingbird can be heard flying by and a Cordilleran Flycatcher call can also be heard in the background.

Credit / Author:

J. Job

Date created:

10/14/2020
Lincoln's Sparrow (song)

Lincoln's Sparrow song recorded on the Cub Lake Trail in Rocky Mountain National Park. Note that a Song Sparrow can be heard in the background.

Credit / Author:

J. Job

Date created:

10/14/2020
Last updated: June 8, 2018