House Wren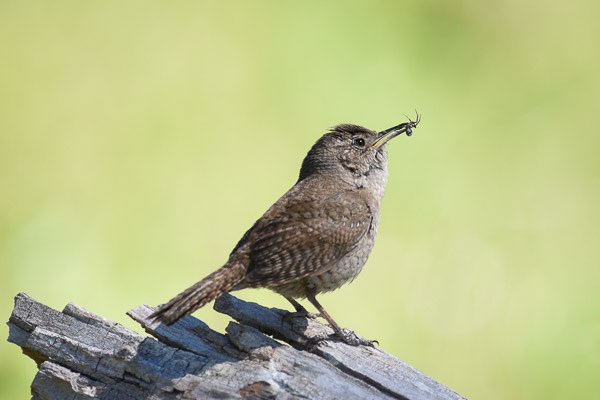 Size:
4-5"
Description:
Subdued brown overall with darker barring on the wings and tail.
Migratory Status:
Summer residents of Rocky Mountain National Park.
Habitat:
Live in a variety of wooded habitats that have a shrubby understory, including riparian, aspen and ponderosa pine forests to 10,000 feet and occasionally 11,000 feet.
Diet:
Forage in low tree branches and shrubs, and eat a wide variety of insects and spiders, including beetles, caterpillars, earwigs, and daddy longlegs.
House Wren (song)

House Wren song recorded on the Bridal Veil Falls Trail in Rocky Mountain National Park.

Credit / Author:

J. Job

Date created:

10/14/2020
House Wren (call)

House Wren call recorded on the Cub Lake Trail in Rocky Mountain National Park.

Credit / Author:

J. Job

Date created:

10/14/2020
House Wren (song)

House Wren song recorded on the Cow Creek Trail in Rocky Mountain National Park. The buzz of a hummingbird flying by and several other birds can also be heard in the recording.

Credit / Author:

J. Job

Date created:

10/14/2020
House Wren (song)

House Wren song from two different birds recorded on the Fern Lake Trail in Rocky Mountain National Park. The sound of a jet flying overhead and other birds can be heard in the recording.

Credit / Author:

J. Job

Date created:

10/14/2020
Last updated: June 8, 2018