Hermit Thrush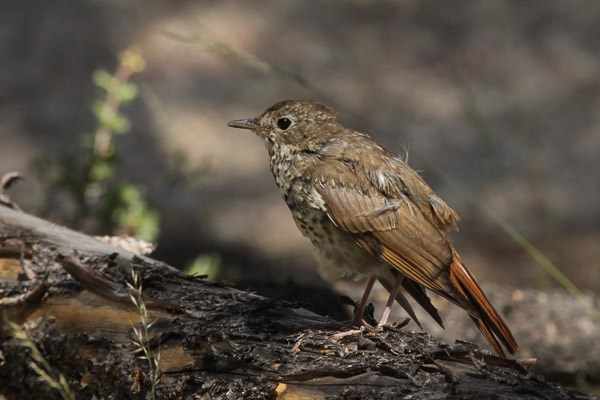 Size:
5.5-7"
Description:
Rich brown overall with a reddish tail and pale underparts, a faint white eye ring and smudge spots on the throat and breast. The Hermit Thrush is most easily detected by its beautiful ethereal song.
Migratory Status:
Summer residents of Rocky Mountain National Park.
Habitat:
Live in spruce-fir and other coniferous forests with lots of understory and near streams to 12,000 feet.
Diet:
Forage on the forest floor and eat mainly insects including beetles, caterpillars and flies.
Hermit Thrush (song)

Hermit Thrush song recorded at Bierstadt Lake in Rocky Mountain National Park.

Credit / Author:

J. Job

Date created:

10/14/2020
Hermit Thrush (song)

Hermit Thrush song recorded on the Allenspark Trail in Rocky Mountain National Park.

Credit / Author:

J. Job

Date created:

10/14/2020
Hermit Thrush (song)

Hermit Thrush song recorded on the Fern Lake Trail in Rocky Mountain National Park.

Credit / Author:

J. Job

Date created:

10/14/2020
Hermit Thrush (song)

Hermit Thrush song recorded on the Gem Lake Trail in Rocky Mountain National Park.

Credit / Author:

J. Job

Date created:

10/14/2020
Hermit Thrush (song)

Hermit Thrush song recorded on the Green Mountain Trail in Rocky Mountain National Park. Note that Dark-eyed Juncos can also be heard in the recording.

Credit / Author:

J. Job

Date created:

10/14/2020
Last updated: June 11, 2018