Hairy Woodpecker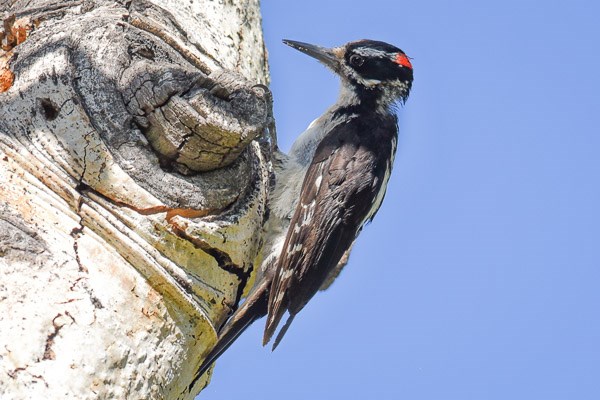 Size:
7-10"
Description:
Mostly black with 2 white stripes on the face, a large white patch on the back and some white checkering on the wings. The male has a red patch on the back of the head.
Migratory Status:
Year-round residents of Rocky Mountain National Park.
Habitat:
Live in spruce-fir, ponderosa pine and other coniferous forests as well as in aspen and foothill riparian forests to 9,000 feet and occasionally 11,500 feet.
Diet:
Forage by pecking at tree bark and eat mainly insects.
Hairy Woodpecker (call)

Hairy Woodpecker call recorded in Upper Beaver Meadows in Rocky Mountain National Park.

Credit / Author:

J. Job

Date created:

10/14/2020
Hairy Woodpecker (call and rattle call)

Hairy Woodpecker call and rattle call recorded on the Cub Lake Trail in Rocky Mountain National Park.

Credit / Author:

J. Job

Date created:

10/14/2020
Hairy Woodpecker (call)

Hairy Woodpecker call recorded on the Fern Lake Trail in Rocky Mountain National Park. Note that a Hermit Thrush and a Golden-crowned Kinglet can be heard in the background.

Credit / Author:

J. Job

Date created:

10/14/2020
Hairy Woodpecker (drum)

Hairy Woodpecker drum recorded at the Beaver Ponds in Rocky Mountain National Park. Note that Western Chorus Frogs, a Green-tailed Towhee and the buzz of a hummingbird flying by can also be heard in the background.

Credit / Author:

J. Job

Date created:

10/14/2020
Hairy Woodpecker (drum)

Hairy Woodpecker drum recorded at the Beaver Ponds in Rocky Mountain National Park. Note that Western Chorus Frogs, an American Robin and a House Wren can also be heard in the background.

Credit / Author:

J. Job

Date created:

10/14/2020
Last updated: June 24, 2018