Green-tailed Towhee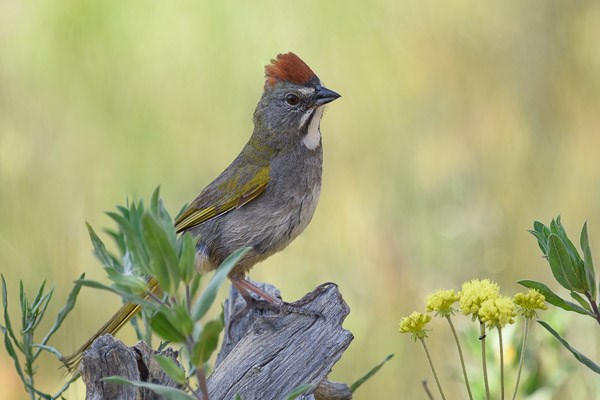 Size:
7-7.5"
Description:
Grayish overall with olive-yellow wings, back and tail, a rufous crown, white throat and a dark "mustache" stripe.
Migratory Status:
Summer residents of Rocky Mountain National Park.
Habitat:
Breed in dry hillsides, shrublands and riparian areas to 10,000 and occasionally 12,000 feet.
Diet:
Forage by scratching on the ground and eat seeds and small insects.
Green-tailed Towhee (song and call)

Green-tailed Towhee song and call recorded in Upper Beaver Meadows in Rocky Mountain National Park.

Credit / Author:

J. Job

Date created:

10/14/2020
Green-tailed Towhee (song)

Green-tailed Towhee song recorded on the Cub Lake Trail in Rocky Mountain National Park. Note that a MacGillvray's Warbler and the buzz of a hummingbird flying by can also be heard in the background.

Credit / Author:

J. Job

Date created:

10/14/2020
Green-tailed Towhee (song)

Green-tailed Towhee song recorded on the Cub Lake Trail in Rocky Mountain National Park. Note that Western Chorus Frogs and the buzz of a hummingbird flying by can be heard in the background.

Credit / Author:

J. Job

Date created:

10/14/2020
Green-tailed Towhee (song)

Green-tailed Towhee song recorded on the Cow Creek Trail in Rocky Mountain National Park.

Credit / Author:

J. Job

Date created:

10/14/2020
Green-tailed Towhee (song)

Green-tailed Towhee song recorded on the Gem Lake Trail in Rocky Mountain National Park.

Credit / Author:

J. Job

Date created:

10/14/2020
Green-tailed Towhee (song and call)

Green-tailed Towhee song and call recorded at Hollowell Park in Rocky Mountain National Park. Note that the buzz of a hummingbird flying by, a Steller's Jay, an Olive-sided Flycatcher and various other birds can be heard in the background.

Credit / Author:

J. Job

Date created:

10/14/2020
Green-tailed Towhee (song)

Green-tailed Towhee song recorded at the Alluvial Fan in Rocky Mountain National Park. Note that Canada Geese and other birds can be heard in the background.

Credit / Author:

J. Job

Date created:

10/14/2020
Last updated: June 11, 2018