Dark-eyed Junco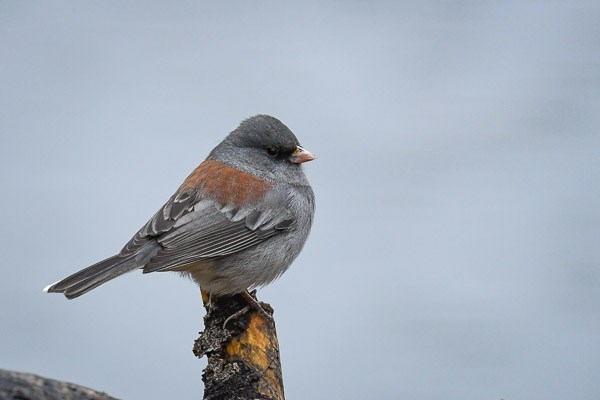 Size:
5.5-6.5"
Description:
Gray-headed Juncos are mostly gray with a darker gray head, rust patch on the back and pink beak. All Juncos have white outer tail feathers that can be seen during flight.
Migratory Status:
Gray-headed Juncos are year-round residents and the only breeding subspecies of Dark-eyed Junco in Rocky Mountain National Park. During winter and migration, the Oregon and Pink-sided subspecies can also be seen.
Habitat:
Live in spruce-fir, ponderosa pine and aspen forests, and in wooded riparian areas to 11,000 feet in summer and 8,000 feet in winter.
Diet:
Forage on the ground and eat mostly seeds and some insects.
Dark-eyed Junco (Gray-headed Subspecies) (song)

Dark-eyed Junco (Gray-headed subspecies) song recorded at Gem Lake in Rocky Mountain National Park.

Credit / Author:

J. Job

Date created:

10/14/2020
Dark-eyed Junco (song)

Dark-eyed Junco song recorded on the Black Canyon Trail in Rocky Mountain National Park. Note that a Mountain Chickadee, Ruby-crowned Kinglet and jet can be heard in the background.

Credit / Author:

J. Job

Date created:

10/14/2020
Dark-eyed Junco (song)

Dark-eyed Junco song recorded on the Fern Lake Trail of Rocky Mountain National Park.

Credit / Author:

J. Job

Date created:

10/14/2020
Last updated: June 11, 2018