Cordilleran Flycatcher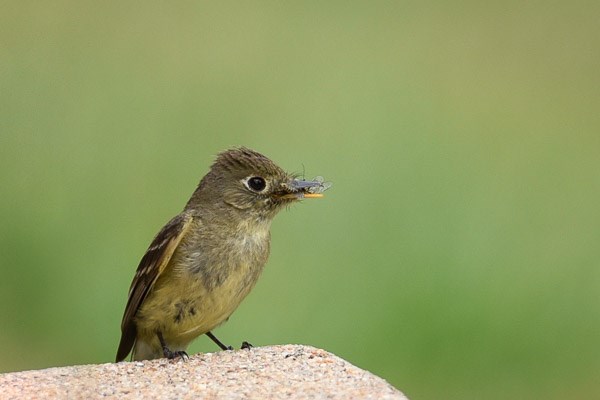 Size:
5.5-6.5"
Description:
Greenish-brown back, yellowish belly, and pale-yellow eye ring and wing bars.
Migratory Status:
Summer residents of Rocky Mountain National Park.
Habitat:
Breed in shady forests usually near streams and moist ravines, and also live in coniferous and deciduous forests of the lower mountains.
Diet:
Eat mainly insects that they catch in the air or glean from tree foliage.
Cordilleran Flycatcher (call)

Cordilleran Flycatcher call recorded on the Fern Lake Trail in Rocky Mountain National Park.

Credit / Author:

J. Job

Date created:

10/14/2020
Cordilleran Flycatcher (song)

Cordilleran Flycatcher song recorded on the Gem Lake Trail in Rocky Mountain National Park. Note that a Ruby-crowned Kinglet and Red-breasted Nuthatch can also be heard in the background.

Credit / Author:

J. Job

Date created:

10/14/2020
Last updated: June 7, 2018