Common Raven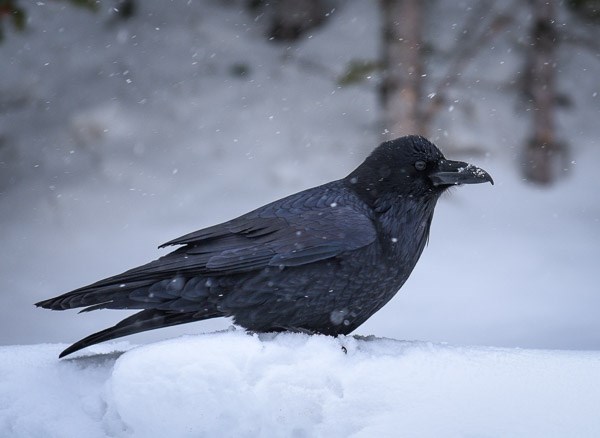 Size:
22-27"
Description:
Glossy black overall with a heavy, thick beak.
Migratory Status:
Year-round residents of Rocky Mountain National Park.
Habitat:
Can be seen in all areas of the Park but prefer more open areas including grasslands, shrublands and riparian areas. Usually nest on cliffs.
Diet:
Eat a variety of foods including carrion, small mammals, grains and berries.
Common Raven (call)

Common Raven call recorded in the Pine Ridge Campsite area in Rocky Mountain National Park.

Credit / Author:

J. Job

Date created:

10/14/2020
Common Raven (call)

Common Raven call recorded in the Moraine Park Campground area in Rocky Mountain National Park. Note that another bird and the buzz of a hummingbird flying by can also be heard in the background.

Credit / Author:

J. Job

Date created:

10/14/2020
Common Raven (call)

Common Raven call recorded on the Cub Lake Trail in Rocky Mountain National Park. Note that an American Robin, a Chipping Sparrow and a Song Sparrow can be heard in the background.

Credit / Author:

J. Job

Date created:

10/14/2020
Last updated: June 20, 2018