Clark's Nutcracker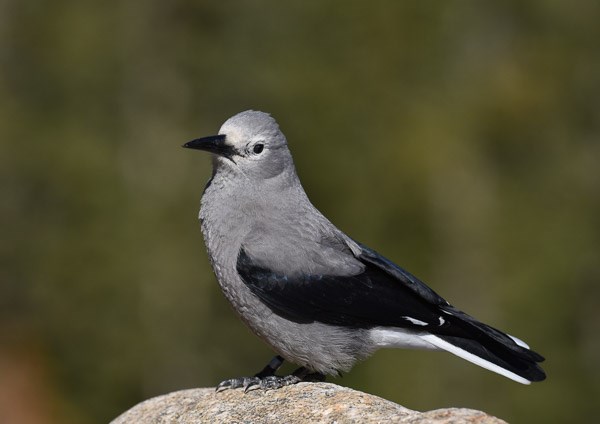 Size:
10.5-12"
Description:
Pale gray with black wings and tail, and a long beak. In flight, the wings and tail show large white patches.
Migratory Status:
Year-round residents of Rocky Mountain National Park.
Habitat:
Live in spruce-fir and other coniferous forests to 12,000 feet.
Diet:
Eat mainly pine seeds but can eat a variety of insects and small mammals. During the summer they cache pine seeds for the winter season.
Clark's Nutcracker (call)

Clark's Nutcracker call recorded in the Twin Owls area of Rocky Mountain National Park. Note that a Wild Turkey call and other bird sounds can be heard in the recording.

Credit / Author:

J. Job

Date created:

10/14/2020
Clark's Nutcracker (call)

Clark's Nutcracker call recorded on the Gem Lake Trail in Rocky Mountain National Park. Note that songs and calls from the House Wren, Mountain Chickadee, Pine Squirrel, Pygmy Nuthatch and Green-tailed Towhee can also be heard in this recording.

Credit / Author:

J. Job

Date created:

10/14/2020
Last updated: June 7, 2018