Chipping Sparrow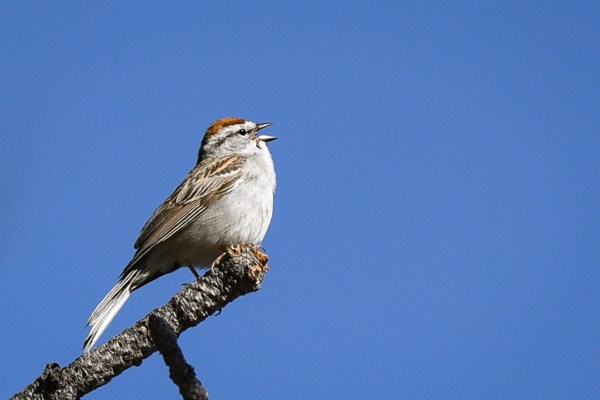 Size:
4.5-6"
Description:
White-gray underparts, a brown streaked back, pale face with a black line through the eye, and rusty crown which fades to brown during the fall and winter.
Migratory Status:
Late spring and summer residents of Rocky Mountain National Park.
Habitat:
Live in ponderosa pine, shrublands and riparian areas to 8,000 feet.
Diet:
Forage mostly on the ground and eat a variety of grass seeds and insects.
Chipping Sparrow (song)

Chipping Sparrow song recorded on the Cow Creek Trail in Rocky Mountain National Park. Note that House Wren, Pine Siskin, American Robin and Warbling Vireo songs, and the buzz of a hummingbird flying by can be heard in the background.

Credit / Author:

J. Job

Date created:

10/14/2020
Chipping Sparrow (song)

Chipping Sparrow song recorded in Horseshoe Park in Rocky Mountain National Park. Note that sounds from the Wild Turkey, American Crow, Violet-green Swallow, Red-breasted Nuthatch, Hermit Thrush and the Common Raven can be heard in the background. A car can also be heard in the recording.

Credit / Author:

J. Job

Date created:

10/14/2020
Last updated: June 20, 2018