Cassin's Finch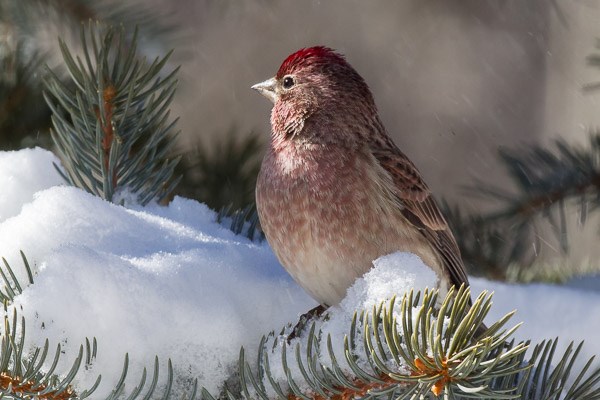 Size:
6-6.5"
Description:
Adult males are rosy pink overall with red on the crown, while females and immature birds are brown-and-white with crisp, dark streaks on their chest and underparts.
Migratory Status:
Year-round residents of Rocky Mountain National Park.
Habitat:
Live in spruce-fir forests and other coniferous forests to 11,000 feet in summer and lower in winter.
Diet:
Eat mostly seeds, but in spring will eat the buds of aspen and cottonwood trees.
Cassin's Finch (song)

Cassin's Finch song recorded in Moraine Park in Rocky Mountain National Park. Note that the buzz of a hummingbird flying by can also be heard in the background.

Credit / Author:

J. Job

Date created:

10/14/2020
Cassin's Finch (song)

Cassin's Finch song recorded at Hollowell Park in Rocky Mountain National Park. Note that another Cassin's Finch and an American Robin can also be heard in the recording.

Credit / Author:

J. Job

Date created:

10/14/2020
Last updated: June 7, 2018