Broad-tailed Hummingbird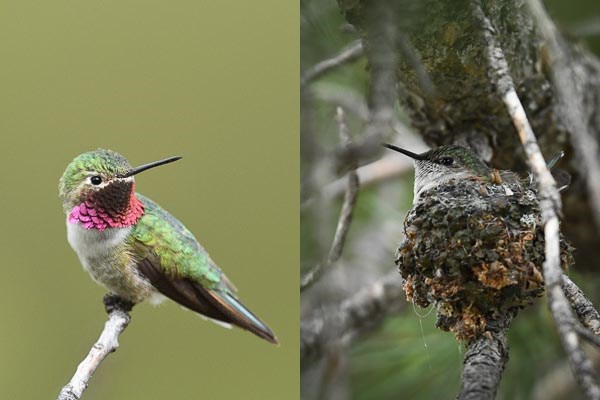 Size:
3-4"
Description:
Pale overall with an iridescent green back, buff colored flanks, white chest and white on the tips of the tail. Adult males have a magenta throat patch, while females and juveniles have pale green spots on the throat and a pale eye ring.
Migratory Status:
Summer residents of Rocky Mountain National Park.
Habitat:
Live in ponderosa pine and other coniferous forests near riparian areas with abundant wildflowers to 10,000 feet.
Diet:
Drink nectar from flowers and eat insects.
Broad-tailed Hummingbird (call)

Broad-tailed Hummingbird call recorded on the Cow Creek Trail of Rocky Mountain National Park. Note that the buzz of a hummingbird can also be heard in the background.

Credit / Author:

J. Job

Date created:

10/14/2020
Broad-tailed Hummingbird (buzz)

The buzz of a Broad-tailed Hummingbird in flight recorded on the Cow Creek Trail in Rocky Mountain National Park.

Credit / Author:

J. Job

Date created:

10/14/2020
Broad-tailed Hummingbird (call)

Broad-tailed Hummingbird call recorded in the Alluvial Fan area of Rocky Mountain National Park. Note that a Steller's Jay can also be heard in the recording.

Credit / Author:

J. Job

Date created:

10/14/2020
Broad-tailed Hummingbird (call)

Broad-tailed Hummingbird call recorded on the Fern Lake Trail in Rocky Mountain National Park.

Credit / Author:

J. Job

Date created:

10/14/2020
Broad-tailed Hummingbird (call and buzz)

Broad-tailed Hummingbird call and wing buzz sounds recorded in the Wild Basin Moraine in Rocky Mountain National Park. Note that Western Chorus Frogs can also be heard in the recording.

Credit / Author:

J. Job

Date created:

10/14/2020
Last updated: July 5, 2019