Black-billed Magpie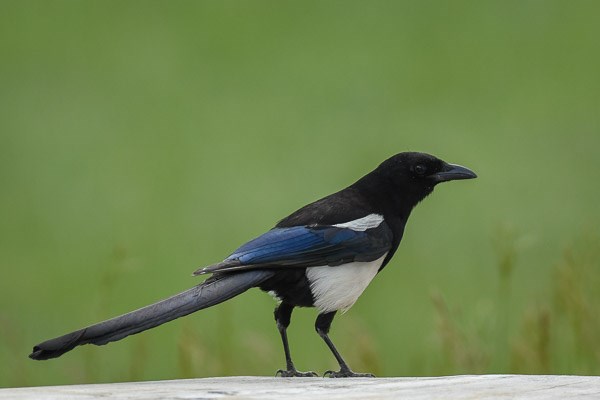 Size:
17.5-23.5"
Description:
Black and white overall with blue-green iridescence on wings and tail.
Migratory Status:
Year-round residents of Rocky Mountain National Park.
Habitat:
Live in a variety of environments including urban, open and riparian habitats with scattered trees to 13,000 feet in summer and 9,000 feet in winter.
Diet:
Typically forage on or near the ground and eat a wide variety of foods including fruits, grains, grasshoppers, beetles, small mammals and carrion. Also eat ticks off the backs of large mammals including deer, elk and moose.
Black-billed Magpie (call)

Black-billed Magpie call recorded in Moraine Park in Rocky Mountain National Park.

Credit / Author:

J. Job

Date created:

10/14/2020
Black-billed Magpie (call)

Black-billed Magpie call recorded in Moraine Park in Rocky Mountain National Park. A hummingbird can be heard flying by, and a House Wren, Ruby-crowned Kinglet and American Crow can be heard in the background.

Credit / Author:

J. Job

Date created:

10/14/2020
Last updated: July 5, 2019