Belted Kingfisher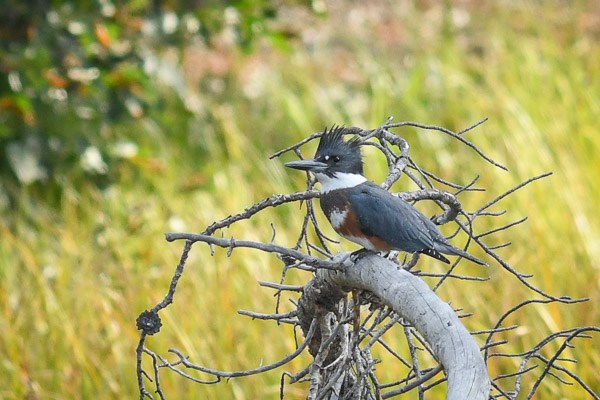 Size:
11-14"
Description:
Mostly powder blue with a white belly, blue breast band, white spotting on the wings and tail, and a white spot in front of the eye. Females also have a rusty band on the chest.
Migratory Status:
Year-round residents of Rocky Mountain National Park provided that the rivers and lakes are free of ice.
Habitat:
Live near lakes and slow-moving rivers to 9,000 feet.
Diet:
Forage by perching on branches above the water and diving in to catch prey of fish and other aquatic animals.
Belted Kingfisher (call)

Belted Kingfisher rattle call recorded at the Beaver Ponds in Rocky Mountain National Park.

Credit / Author:

J. Job

Date created:

10/14/2020
Belted Kingfisher (call)

Belted Kingfisher rattle call recorded at the Beaver Ponds in Rocky Mountain National Park.

Credit / Author:

J. Job

Date created:

10/14/2020
Belted Kingfisher (call)

Belted Kingfisher rattle call recorded at the Beaver Ponds in Rocky Mountain National Park.

Credit / Author:

J. Job

Date created:

10/14/2020
Last updated: August 23, 2018