Yellow-rumped Warbler (Audubon's Warbler subspecies)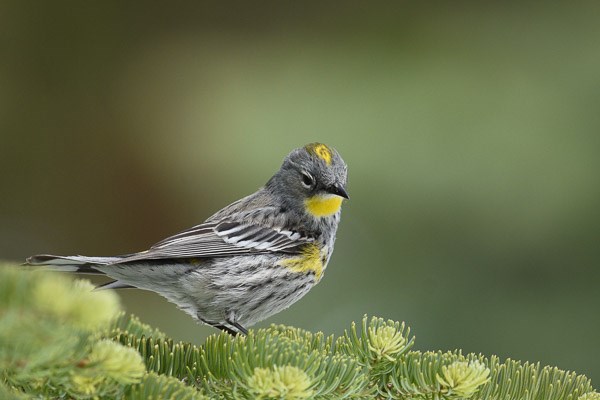 Size:
4.7-5.5"
Description:
Audubon's Warblers are mostly gray with black and white streaks, and yellow patches on the throat, face, sides and rump. Females and juveniles are brownish gray.
Migratory Status:
The Audubon's Warbler is the subspecies of Yellow-rumped Warbler that breeds in the Park. They are late spring and summer residents of Rocky Mountain National Park.
Habitat:
Breed in mature spruce-fir and other coniferous forests to 11,000 feet.
Diet:
Forage throughout the canopy and eat mainly insects.
Audubon's Warbler (song)

Audubon's Warbler song recorded on the Green Mountain Trail in Rocky Mountain National Park.

Credit / Author:

J. Job

Date created:

10/14/2020
Audubon's Warbler (song)

Audubon's Warbler song recorded on the Black Canyon Trail in Rocky Mountain National Park.

Credit / Author:

J. Job

Date created:

10/14/2020
Audubon's Warbler (song)

Audubon's Warbler song recorded in Big Meadows in Rocky Mountain National Park. Note that a Ruby-crowned Kinglet can be heard singing in the background.

Credit / Author:

J. Job

Date created:

10/14/2020
Audubon's Warbler (song)

Audubon's Warbler song recorded on the Fern Lake Trail of Rocky Mountain National Park.

Credit / Author:

J. Job

Date created:

10/14/2020
Audubon's Warbler (song)

Audubon's Warbler song recorded on the Finch Lake Trail of Rocky Mountain National Park.

Credit / Author:

J. Job

Date created:

10/14/2020
Audubon's Warbler (song)

Audubon's Warbler song recorded on the Gem Lake Trail in Rocky Mountain National Park. The buzz of a hummingbird flying by can be heard in the background.

Credit / Author:

J. Job

Date created:

10/14/2020
Audubon's Warbler (song)

Audubon's Warbler song recorded on the Gem Lake Trail in Rocky Mountain National Park. Note that the song of an American Robin can be heard in the background.

Credit / Author:

J. Job

Date created:

10/14/2020
Audubon's Warbler (song)

Audubon's Warbler song recorded in Moraine Park in Rocky Mountain National Park.

Credit / Author:

J. Job

Date created:

10/14/2020
Last updated: June 24, 2018