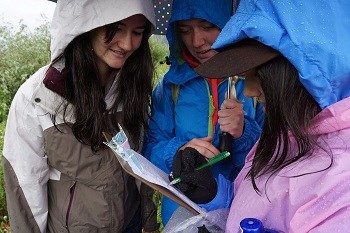 At first it may not seem like the small city of Estes Park, Colorado has much in common with its international sister city, Monteverde, Costa Rica. However, I learned that both share a handful of migratory birds, stunning national parks, the continental divide and genuine, hardworking people. When I found out that high school students from one of the prettiest Central American countries were coming to explore, research and learn about Rocky, I knew I had to take the opportunity to practice my Spanish and help out during their stay.
On Wednesday morning I met up with the Costa Ricans, or "ticos," at the Research Learning Center dormitory, where researchers are housed to conduct research in the park. The five high schoolers are a part of a student group from the "Reserva Bosque Nuboso Santa Elena," or Santa Elena Cloud Forest Reserve. Joining them from the reserve was Walter Bello Villalobos, José David Badilla and Judit María Badilla, as well Ulisses Chavarría, the principal of Palo Verde National Park, or "Parque Nacional Palo Verde" in Guanacaste, Costa Rica.
After introductions, we put on rubber boots and hopped in the van borrowed from Estes Park High School (many thanks to Pam Frey, science teacher at EPHS, for volunteering to drive the van and letting us utilize her Spanish skills!). During the drive to our first destination, I learned that students and chaperones from Estes Park High School, along with Jay Halford from the Estes Institute, traveled to Monteverde earlier in the month as part of an exchange program through Estes Park Sister Cities Association Inc. Hannah Willis and Simone Paul, two of the students who went on the trip abroad, volunteered to show the Costa Ricans around their research at the park.