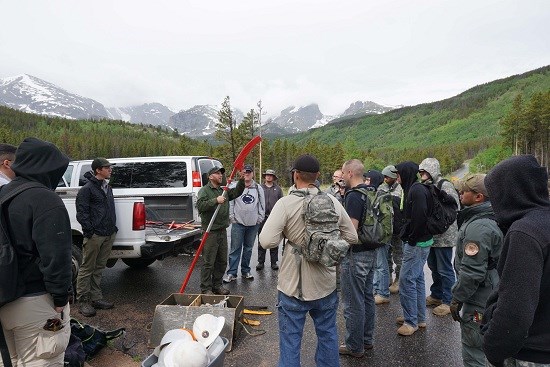 A very big and important piece of the Volunteers in Parks program is our group volunteers who work with Park staff and volunteer supervisors to complete projects throughout Rocky. During my first week as the VIP Intern, I was able to spend some time with two very special volunteer groups.
On Tuesday, Dave Patrick and Zack Petrie, members of the Trail Crew, lead active duty Navy and Army volunteers from Buckley Air Force Base in Aurora, CO on a brushing project through Storm Pass Trail. Before they began the trail maintenance, Dave gave them a run-down of the project and a key rule to abide by. "Safety is our first priority and good communication will help us accomplish that."
From the very beginning it was clear that these men would stand by Dave's instruction with ease. As they used sharp tools, like hand saws, loppers and pull saws, to clear away branches and overgrown plants from the trail, the frequent "Look out!" and "This one's about to come down!" could be heard before the falling of a hefty branch. There were even a few times I caught the soldiers and sailors teaming up to take down a pine branch that would otherwise be in the way of hikers and visitors riding horseback.