Greenhouse Volunteers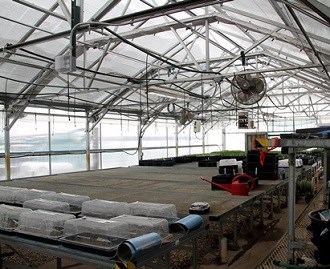 Last week I spent an afternoon in the (warm!) greenhouse with Lloyd, Susan, and David as they transplanted erisymum captitatum, commonly known as sanddune wallflower.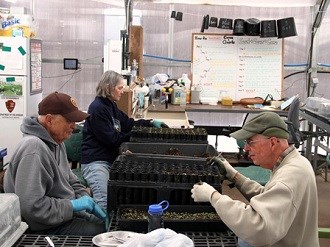 At 87 years old, Lloyd is incredibly active and participates in trails work at Rocky in addition to his time spent in the greenhouse. As is the case with many of the volunteers here at Rocky, he discovered his love for the outdoors later in life and has never looked back. Outside of time spent volunteering in the park, he is also an avid biker, including several trips over Trail Ridge Road. Lloyd remembers hiking up to mosquito-ridden Lawn Lake before the dam broke in 1982;he's definitely been around in the park for a while!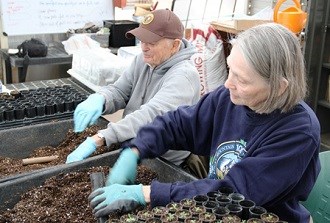 Susan and David King have been in the greenhouse for two and three years respectively. Both jumped right in with their involvement at Rocky and, an addition to their work with plants, they have participated in the elk count as well as raptor monitoring. Susan cited the greenhouse as her favorite volunteer position because of the relaxing atmosphere and the opportunity to interact with other volunteers in a small, one-on-one context. David has thoroughly enjoyed the greenhouse as well as helping in other capacities and talked about how much he has learned, especially scientifically, just because of the proximity to staff and fellow volunteers at Rocky. The King's have spent over 30 years in Colorado, eventually deciding to give into the allure of the mountains and move to Estes year-round.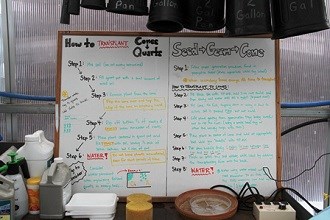 The greenhouse has an inherently calming atmosphere. The warm, humid air, smell of fresh soil, and vibrant green seedlings give volunteers a hint of spring. After spending an hour with Lloyd, Susan, and David, I understand why it's a favorite volunteer position for many, and I'm excited to follow the progress of these plants as they are incorporated into Rocky's ecology!
Last updated: April 24, 2015