From the EE Interns...
The Environmental Education staff at Rocky Mountain National Park inspires thousands of children, and their teachers, every year. They are tasked with a tremendous responsibility--to help create the next generation of stewards of our environment and our national parks.
To assist with this undertaking the park employs several Environmental Eduation Interns each year.
Catch a glimpse of their world and experiences.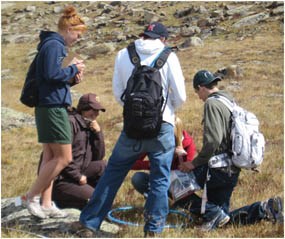 November 2009
Environmental Education-Jessica
Hi! My name is Jessica Silveri and I am beginning my second season as an Environmental Education Intern at Rocky Mountain National Park.
My first memory of working at Rocky Mountain National Park is of a group of high school students that came all the way from Texas during their summer vacation for our environmental education program! I was impressed that people came to participate in this program from such a far distance. Even more impressive, was the excitement in many of the students' faces when they got to see and experience snow for the first time! Although it was mid-June, there were still patches of snow on the alpine tundra. This was my first indication that Rocky Mountain National Park and our environmental education programs leave lasting impacts on the students we serve.
Our summer programs are unique and varied. This past summer I got to work once weekly on the Discovery Day program for parents and kids at Moraine Park Visitor Center. Discovery Days was a very popular and well visited program. Although it was hard work to prepare, I know the program will leave a lasting impression on the families that participated!
I also got the opportunity to develop and teach a week-long Science Discovery camp for the University of Colorado-Boulder. Throughout the first four days of this program we stayed around the campus and taught the 8-10 year old students about observing nature using all their senses and how to make observations about the land, the sky, and the water. On the final day of our program, we brought the students to Rocky Mountain National Park to pull all their learning together. Much to our surprise, the students complained, a lot, while on the final day of camp. They got bug bites and thought the grass was too itchy. They were tired and hot. When it came time to conclude our entire week, we asked the students to share the favorite part of camp. Even after all the complaining, every single student said their trip to Rocky Mountain National Park was their favorite part of the week! This reinforced for me that our Park is a special place in some way for everyone who has the opportunity to spend time here.
As we begin our busy fall season, I keep this idea in mind. Regardless of the student's background when they enter the Park, they will all have an opportunity to leave with a wonderful new experience. Although the students may not remember what they learned at the Park forever, it is my job to also do as much as I can to ensure each student leaves Rocky Mountain National Park with a positive memory that does last forever.
After my internship ends, I know I will always remember the special places I have been able to visit and work. When I return to Rocky Mountain National Park in a few years, I will still recall my favorite mountains to hike and the places I was able to share with students. I know each student I interact with here will have a unique spot that gives them a similar feeling and I hope they too will return to visit that place. I encourage you, if you haven't found it yet, to explore our Park high and low so that you too can find your special place.
Your comments are welcome and may be posted on this website. To submit your comment by email, please click here.
---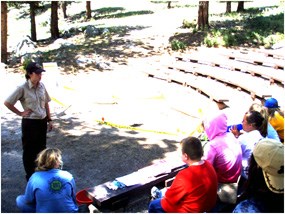 August 19, 2009
Lauren - RMNA Intern
Hi! I'm Lauren, one of the environmental education (EE) interns for the summer of 2009. I'm a fourth grade teacher during the school year and came to RMNP looking for a volunteer position to pass the summer. Instead, I got the opportunity to work my dream job: teaching kids in the great outdoors! It's been great! Not to mention that I live and work among some of the most beautiful mountains in the United States. I've loved my weekend hikes and climbs just as much as my weekly nature walks and programs with students.
I can't believe it's already August. I only have a few weeks left here in the park. As a result, I've been reflecting on the past two months here in the environmental education department. I thought I'd give you an insider's look at my favorite parts of our program.
One of the best elements of EE is the people I've been able to work with. We have a fun, relaxed atmosphere that helps balance out how incredibly busy we are. Most of our programs are created and executed by teams of two or three of us, so it's imperative that we work together constantly - without killing each other. No problem so far! We have a great manager who is both fun and serious about propelling us toward high quality program development. She's also a great communicator, so it's easy to ask her questions and to know exactly what she's looking for on any given project.
One of my favorite programs is our weekly Discovery Days series. We launched this program series this summer. This four-hour program is open to the public and takes place in the Moraine Park Museum. The program consists of interactive stations that guide kids and their families to learn about the amazing wildlife and landscapes of the park. For example, at our geology program called "Our Park Rocks!", kids read a poster about the three rock types and used crayon shavings to create their own sedimentary, igneous, or metamorphic rocks. Visitors love this program! We get about 100-150 visitors each Monday. Many kids visit every poster and complete a short booklet that reflects what they learned from the activity stations. The program fulfills their requirement for a ranger-led program in the Junior Ranger book, and we award about fifteen Junior Ranger badges every week. It's so fulfilling to see kids learn so much at the program and to watch them beam as we sign their Junior Ranger books!
A ton of work goes into the preparation of Discovery Days. Two EE interns usually work on putting each week's program together. We research and type up the content, then spend hours formatting it into graphically appealing posters. We brainstorm activities, type instructions, collect materials, and spend at least two hours setting up on the morning of the program. During the summer of 2010, Discovery Days will continue and expand. If you work here as an intern next summer, you could be part of the Discovery Days team.
There are many more programs I'd love to share with you: my favorite nature hikes, a scavenger hunt I led around Moraine Park Museum, teaching track and scat identification through our "C.S.I. Tracks and Scat" program, and much more. All of that is to say: I've truly enjoyed my summer working with EE and I'd highly encourage anyone with a passion for the outdoors and education to join. Come work or volunteer for EE in the Rockies! You'll be glad you did!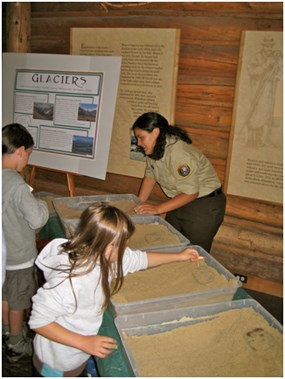 August 12, 2009
Education Program-Melissa
Hey there, my name is Melissa Gutierrez.
Welcome to my blog. I've been at Rocky Mountain National Park for a little bit over a month, and I love it! When I first arrived here, I was amazed to discover that there are so many different career possibilities here in the park. You can be anything from a graphic designer to a backcountry fire fighter. I, happily, work in the Education program at the park. I get to work outdoors and teach kids and adults about the park. I also get to work with an amazing group of people who are passionate about what they do.
My first program was on the adaptations of predator and prey animals. I was a bit nervous, but I was well prepared and the program went very smoothly. I presented the program at Moraine Park, a beautiful valley created by glaciers over 10,000 years ago. I really enjoy showing visitors all the things that make this park an amazing place.
The best part about this job is that I get to work here while I am a high school student and incorporate what I learn and what I do with the credit I earn in school. It can be intimidating to work here as a student, but I have received a lot of help and support from the people I work with. This experience has provided me with the chance to see a lot of the park and shadow other jobs in the park, which has given me great insight into the Park Service and how what we do is important.
One of the best things about this opportunity has been to see how my peers have become very interested in the park, and the work I am doing here. Their excitement about what I get to do at the park encourages me to continue this work and pave the way for other high school students to become more engaged with their local parks.
---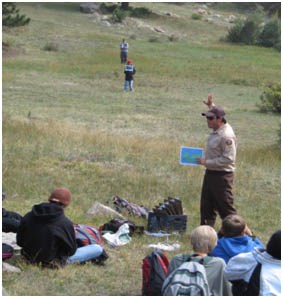 May 15, 2009
Heart of the Rockies-Curtis
Welcome to my blog! My name is Curtis. I am in the middle of my third season as an education intern with the Heart of the Rockies Environmental Education program. Over the past year I have experienced Rocky Mountain National Park during three beautiful seasons, all the while getting to show children how wonderful this place is.
Earlier this week I got a chance to go to a seventh grade classroom and discuss the mountain pine beetle. We talked about why we are facing such an epidemic here in the park and I had the students think critically about what they would do to solve the pine beetle problem if they were park managers. They each developed their own management plan and I got some pretty creative ideas, including breeding a race of giant woodpeckers to eat all the pine beetles!
Later in the week I worked with a group of second grade students. I taught them about the water cycle and why it's important to humans, as well as the plants and animals in RMNP. During the program we explored Mills Creek in Hollowell Park. The kids' faces lit up when we found an old beaver dam and saw a group of trout swimming in the stream!
Next week I will be roaming through the woods of RMNP with local kindergarteners trying to find evidence of who lives in the park. It should be tons of fun because kindergarteners have an insatiable curiosity!
Being an environmental educator is a very fulfilling career that I wouldn't trade for the world. Knowing that my job is to help shape the conservationists of the tomorrow is one of the most rewarding feelings I have ever had. If you see me out in the park don't be afraid to say hello to me and the kids!
Your comments are welcome and may be posted on this website. To submit your comment by email, please click here.
---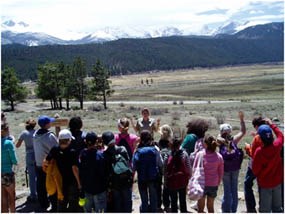 May 6, 2009
GeoCoprs America-Rebecca
Welcome to my blog! My name is Rebecca and this spring I am the GeoCorps America participant at Rocky Mountain National Park. What does that mean, you might ask? Well, the Geological Society of America and the National Park Service have partnered to place geologists in seasonal positions within the park service. I am currently a member of the environmental education team here at RMNP. My job has been pretty amazing so far and I am definitely not looking forward to leaving at the end of May.
On Monday we took a group of high school students on a historic hike through Moraine Park. We were able to cover everything from geology and glaciers to elk and mountain pine beetle, and even on to Native Americans and the first white settlers.
Tomorrow and Friday we will be heading out to Upper Beaver Meadows to do a program about mountain pine beetles with 7th graders. We will be teaching them about the life cycle of the pine beetles and the special adaptations they have that are enabling them to have such an enormous impact on our pine trees. Yesterday we went to scope out the area prior to our program and discovered a freshly killed elk! Only the bones and fur remained. It was quite a grisly site, but this is nature and this is the kind of scene one is bound to encounter sooner or later.
Since I am a geologist, a lot of the programs I do with school kids are about the mountains and glaciers. In a couple of hours I am meeting a group of 5th graders at Moraine Park Visitor Center and we are going to create our own glacially carved landscapes using sandboxes. It's a lot of fun, but it sure is messy!
Your comments are welcome and may be posted on this website. To submit your comment by email, please click here.
---
Last updated: February 24, 2015