Ranger Thoughts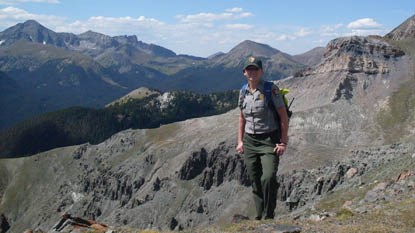 Your comments are welcome and may be posted on this website. To submit your comment by email, please click here.
---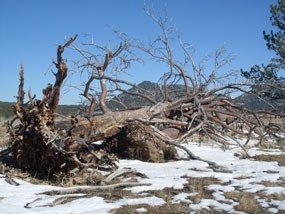 March 17th, 2012
Liquid GOLD
It has been a weird winter as of yet, and the snow has let up from last year, but the winter winds have stayed ferocious! The wind's powerful blow fogs the ridgeline by whipping snow around the peaks, and it shows its strength by knocking over big old trees. Please continue to be cautious of trees when traveling in Rocky Mountain National Park (RMNP) if you go hiking on really windy days. Although westerly winds continue to rip through the park, we are not seeing nearly as much snowfall, especially compared to last year's record setting snowpack (check out the Colorado Snow Survey).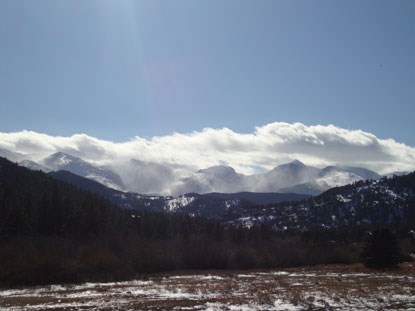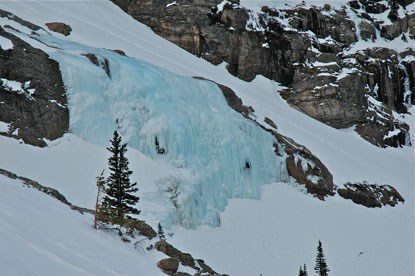 Having lots of snow is necessary for RMNP because of its ability to sustain living things. Perhaps the most influential thing about the snow is its transformation into water. Most of the park's moisture falls as snow, and in the west water is referred to as "liquid gold". Without sufficient water trees become more susceptible to insect infestations, boreal toads and tiger salamanders have a hard time finding suitable habit, and wildflowers can't put on their brilliant blooming show! Although snow tends to be seen as an inconvenience, it is necessary to ensure the survival of many plants and animals, including ourselves.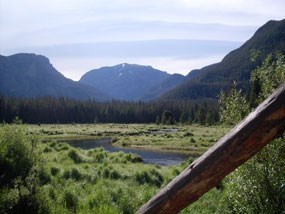 Once snow melts it flows as water through the vein-like rivers and streams, and departs on a long journey back toward the ocean. RMNP hosts the headwaters of major rivers such as the Colorado River, the Big Thompson River, the Poudre River, and the North St. Vrain River. Along their routes, the rivers provide drinking water, and hydroelectric power for much of the United States. These rivers need the replenishment of water from the snowpack, and glaciers of the Rocky Mountains. About ~90% of the water feeding the Colorado River comes from the highlands of both Colorado and Wyoming. Globally, mountain ecosystems like RMNP provide about 50% of the fresh drinking water for the whole world!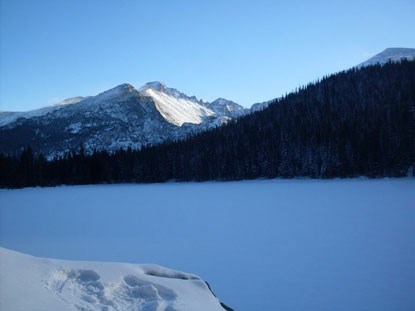 We can thank the park for many things, but fresh drinking water is not the typical one that comes to mind. There are a lot of things to appreciate about Rocky, and the protection of vital resources is one of them. RMNP was established not only to protect scenic views and wildlife, it is also here to conserve unpolluted water, clean air, and natural darkness that the park provides. Spring is the time where water will flow once more, and things will spring to life. Rocky just would not be the same place without the vibrant green grass of the open meadows, the sound of rushing water, and the colorful wildflowers that are a feast for the eyes. So next time you are in the park, you can thank the snow, for not only sustaining park life, but our lives as well!
---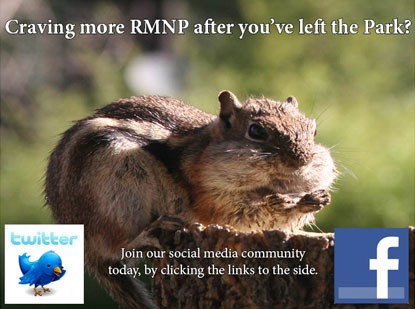 January 31, 2012
Digital Media at Rocky
The National Park Service is trying to increase the use of updated technology, and current social media, to reach new audiences and engage them in protecting our public lands. By keeping up-to-date in the high-tech 21st century, the NPS can stay relevant to today's visitor. Although in this day and age, this is no easy task! It is definitely a challenge to keep a balance between advancing the use of technology, while also providing the authentic experiences in nature that people seek in our national parks. There are many different ways to connect our audiences, and just recently we have turned to podcasts, webcams and social media. Nowadays, it is easy to experience the park right from your couch at home. But more importantly, through these avenues we hope to lure outside, so you can come and experience the wonders of Rocky Mountain National Park yourself.
On this RMNP webpage, you can access lots of good information to prepare you for a great trip to the park. One of the newer resources in the webpage's Photos and Multimedia section are the podcasts and webcams. From finding out what to bring on a backcountry hike, to planning a big climb up Longs Peak, the podcasts cover many different topics and are a great way to prepare you for a trip to Rocky! Take some time to watch a few, and keep tuning in for more to come. Along with podcasts, on our park web page you can access multiple webcams. Take a peek at live park views to check in with the weather, catch a glimpse of some wildlife, or to simply enjoy a scenic window view. The endless natural beauty of RMNP is literally a mouse click away!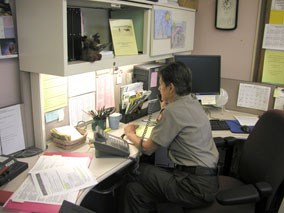 A great way to receive updated park information right to your smart phone is to "Follow" RMNP on Twitter. Rocky's Twitter account is managed by the employees of our park Information Office, which include the infamous 'ks', 'dh' and 'ww'. Katy, or 'ks', is the head of the Park's Info Office and among other things, she is tasked with staying up on top of all park happenings, and relaying the information to the park staff. Diane 'dh'and Bill 'ww' are on Katy's staff and help keep things running whenever Katy is out of the office. This is the crew operating the Twitter account, and updating the Park's Facebook page with the newest and most vital information to keep the public informed as well. Follow RMNP on Twitter today @rmnpofficial, or click the link on the side, and get daily weather reports, road conditions, and other important information sent right to your phone.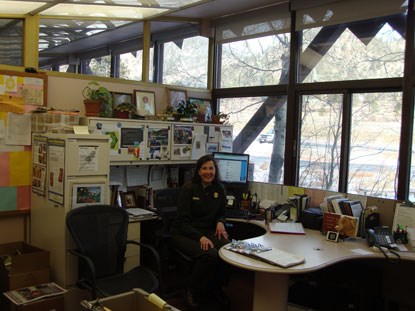 Along with blogging for Rocky, I also help run the Park's Facebook page as part of my duties. You all can probably see the Icon to the side here that says "Like Us" and if you click on it you can join our fan-base today! The Facebook page is a great way to stay connected to Rocky Mountain National Park even if you are miles away. From the page you are able to get accurate information for a future visit, or post pictures and memories from a past RMNP experience. My job on the page is to take pictures and uploading them to the page, posting links and updated information, and most importantly I try to keep our RMNP fans interested in caring for this wonderful place. It is fun to run the page, and to share the park with so many people who are longing to be here. I thank you all for sharing your RMNP with us, and I hope you all will become a fan soon, and join our digital community.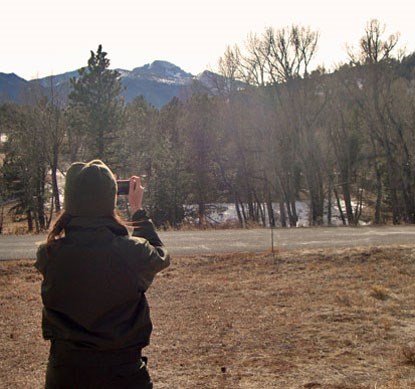 You can definitely look forward to more great updates on technology from Rocky Mountain National Park. Each new door of communication that opens adds even more ways to stay in touch with our audiences from all over the world. We hope to make a deeper connection between our visitors and the park through the use of social media, so we can keep this area preserved and protected for many more years to come. So join us along our digital journey, and stay up to date with information by following us on Twitter, share your park experience by posting pictures to our facebook page, but always remember…the real RMNP is outside!

---
Last updated: April 22, 2020