Insects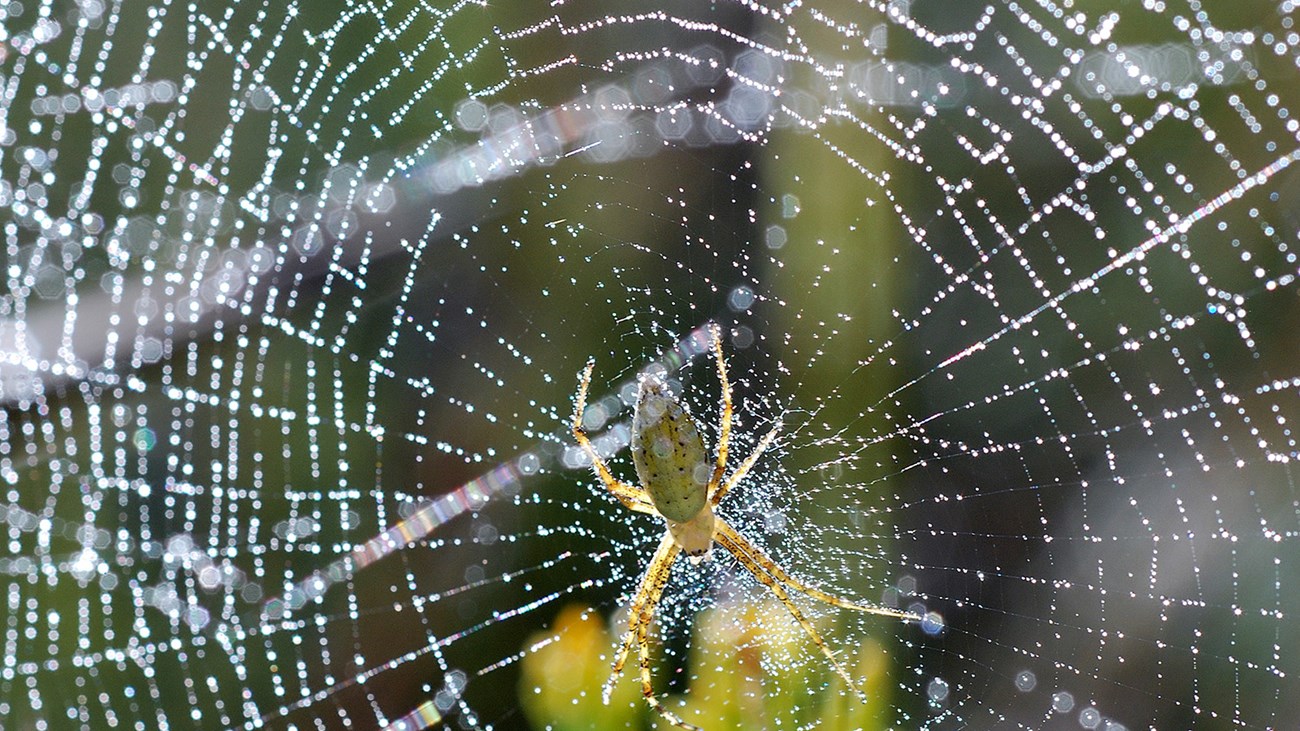 Critters from the scientific classification order Arthropoda are the least documented in the park, even though they can be seen everywhere. These species lists are extremely incomplete, with the future hope of documenting thousands of different creatures with wings and/or multiple pairs of legs
Go to the National Park Service IRMA Portal NPSpecies site to see a working list of insects, spiders, centipedes and millipedes in the park.
Scientific classification abides by the following hierarchy:
Kingdom, Phylum, Class, Order, Family, Genus, Species
Insects, spiders, centipedes and millipedes all belong to the kingdom Animalia and the phylum Arthropoda. However, they diverge as you move farther down the scientific classification chain. These four groups are part of different classes:
Insects are in the Insecta class
These animals have exoskeletons, three-part bodies (head, thorax abdomen), three pairs of jointed legs (six legs total), and one pair of antennae. They are the most diverse group of animals in the world.
Spiders are in the Arachnida class
Arachnids have exoskeletons, eight legs, and two extra pairs of appendages for feeding, defense and sensory perception. They do not have antennae or wings
Centipedes are in the Chilopoda class
Centipedes have long, multiple segmented bodies with one pair of legs per body segment. They have odd numbered pairs of legs and one pair of venom claws at the head. Centipedes are carnivorous.
Millipedes are in the Diplopoda class
Millipedes have long, cyllindrical or flattened bodies of many segments. There are two pairs of jointed legs on most body segments. Millipedes eat dead plant matter.
See the examples below to see how certain animals can be further classified.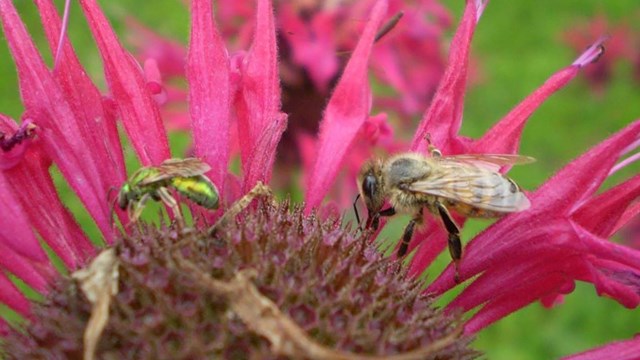 Bees
Bees are part of the order Hymenoptera in the class Insecta. NPS Photo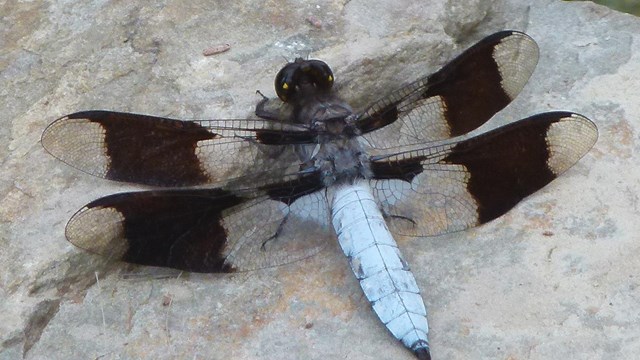 Dragonflies
Dragonflies are part of the order Odonta in the class Insecta. NPS Photo / Alicia Lafever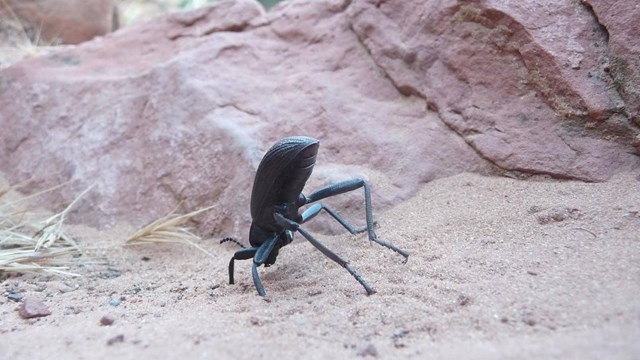 Pinacate beetle (Eleodes)
Beetles are part of the order Coleoptera in the order Insecta. NPS Photo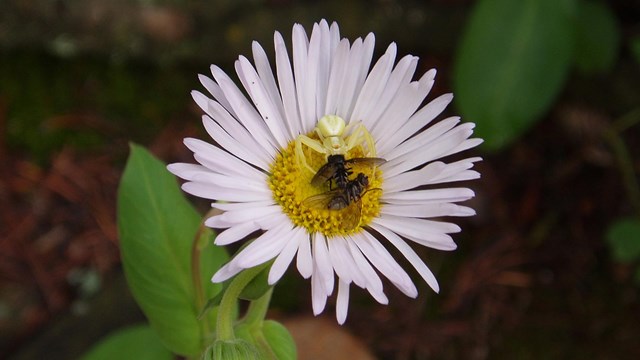 Crab Spider
Crab Spider (Misumena vatia) is a distinct species under the class Arachnida. NPS/Jason Bennett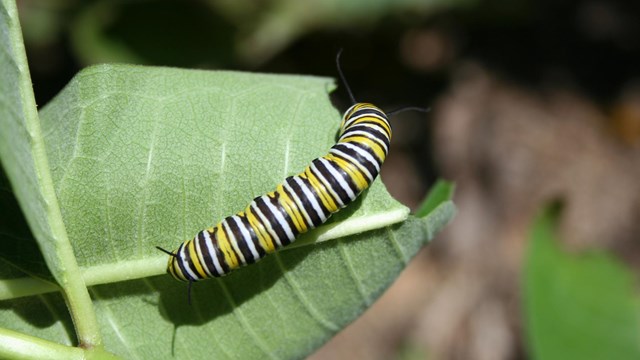 Monarch caterpillar
Monarch Caterpillar NPS Photo / Alicia Lafever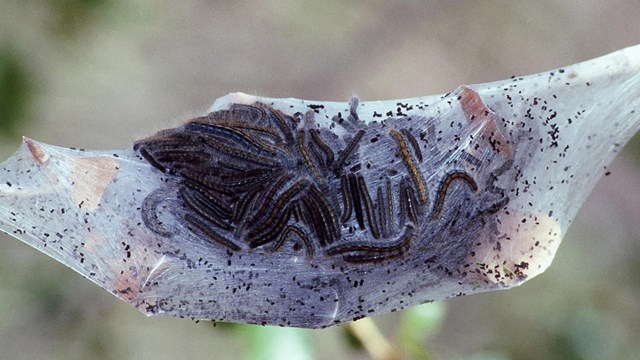 Tent Caterpillars
These tent caterpillars will turn into moths from the family Lasiocampidae in the class Insecta. NPS Photo

Species inventoried at the 2012 BioBlitz in Rocky Mountain National Park will hopefully be added to the park's species list in the future.
An example of an unofficial insect species list from the order Plecoptera is found below. It was compiled from unpublished reports over several years and updated by park volunteer Dr. Burt Cushing and other sources. We are very grateful for all their assistance.
This list is incomplete, but it gives you a taste of the sheer number of species found within one order of the class Insecta. Imagine how these numbers can grow exponentially when all species from other orders can be included.
Stonefly (Order Plecoptera) from Rocky Mountain National Park
| | | | | |
| --- | --- | --- | --- | --- |
| Order | Family | Scientific Name | Common Name | Park Status |
| Coleoptera | Carabidae | Abacidus | No data | Present in Park |
| Coleoptera | Dytiscidae | Dytiscus alaskanus | No data | Present in Park |
| Coleoptera | Dytiscidae | Hydaticus modestus | No data | Present in Park |
| Coleoptera | Dytiscidae | Hydroporus | No data | Present in Park |
| Coleoptera | Dytiscidae | Hygrotus | No data | Present in Park |
| Coleoptera | Dytiscidae | Rhantus wallisi | No data | Present in Park |
| Coleoptera | Elmidae | Heterlimnius corpulentus | No data | Present in Park |
| Coleoptera | Elmidae | Narpus concolor | No data | Present in Park |
| Coleoptera | Scolytidae | Dendroctonus ponderosae | mountain pine beetle | Present in Park |
| Diptera | Blephariceridae | Agathon elegantulus | No data | Present in Park |
| Diptera | Chironomidae | Cardiocladius | No data | Present in Park |
| Diptera | Chironomidae | Cricotopus | No data | Present in Park |
| Diptera | Chironomidae | Diamesa | No data | Present in Park |
| Diptera | Chironomidae | Eukiefferiella | No data | Present in Park |
| Diptera | Chironomidae | Micropsectra | No data | Present in Park |
| Diptera | Chironomidae | Orthocladius | No data | Present in Park |
| Diptera | Chironomidae | Pagastia partica | No data | Present in Park |
| Diptera | Chironomidae | Parametriocnemus | No data | Present in Park |
| Diptera | Chironomidae | Parorthocladius | No data | Present in Park |
| Diptera | Chironomidae | Pseudodiamesa pertinax | No data | Present in Park |
| Diptera | Chironomidae | Rheocricotopus | No data | Present in Park |
| Diptera | Chironomidae | Tendipedidae | No data | Present in Park |
| Diptera | Chironomidae | Tvetenia | No data | Present in Park |
| Diptera | Culicidae | Aedes cataphylla | No data | Present in Park |
| Diptera | Culicidae | Aedes cinereus | No data | Present in Park |
| Diptera | Culicidae | Aedes communis | No data | Present in Park |
| Diptera | Culicidae | Aedes excrucians | No data | Present in Park |
| Diptera | Culicidae | Aedes fitchii | No data | Present in Park |
| Diptera | Culicidae | Aedes hexodontus | No data | Present in Park |
| Diptera | Culicidae | Aedes impiger | No data | Present in Park |
| Diptera | Culicidae | Aedes implicatus | No data | Present in Park |
| Diptera | Culicidae | Aedes increpitus | No data | Present in Park |
| Diptera | Culicidae | Aedes pionips | No data | Present in Park |
| Diptera | Culicidae | Aedes pullatus | No data | Present in Park |
| Diptera | Culicidae | Aedes punctor | No data | Present in Park |
| Diptera | Dixidae | Dixa | No data | Present in Park |
| Diptera | Empididae | Chelifera | No data | Present in Park |
| Diptera | Empididae | Clinocera | No data | Present in Park |
| Diptera | Simuliidae | Prosimulium onychodactylum | No data | Present in Park |
| Diptera | Simuliidae | Prosimulium travisi | No data | Present in Park |
| Diptera | Simuliidae | Simulium arcticum | No data | Present in Park |
| Diptera | Simuliidae | Simulium aureum | No data | Present in Park |
| Diptera | Simuliidae | Simulium decorum | No data | Present in Park |
| Diptera | Simuliidae | Simulium hunteri | No data | Present in Park |
| Diptera | Simuliidae | Simulium piperi | No data | Present in Park |
| Diptera | Simuliidae | Simulium tuberosum | No data | Present in Park |
| Diptera | Simuliidae | Simulium virgatum | No data | Present in Park |
| Diptera | Simuliidae | Simulium vittatum | No data | Present in Park |
| Diptera | Simuliidae | Stegopterna mutata | No data | Present in Park |
| Diptera | Syrphidae | Eristalis tenax | drone fly | Present in Park |
| Diptera | Tipulidae | Antocha | No data | Present in Park |
| Diptera | Tipulidae | Dicranota | No data | Present in Park |
| Diptera | Tipulidae | Hexatoma | No data | Present in Park |
| Diptera | Tipulidae | Pedicia | No data | Present in Park |
| Diptera | Tipulidae | Rhabdomastix | No data | Present in Park |
| Ephemeroptera | Ameletidae | Ameletus velox | No data | Present in Park |
| Ephemeroptera | Baetidae | Acentrella insignificans | No data | Present in Park |
| Ephemeroptera | Baetidae | Acentrella turbida | No data | Present in Park |
| Ephemeroptera | Baetidae | Acerpenna pygmaea | No data | Present in Park |
| Ephemeroptera | Baetidae | Baetis bicaudatus | No data | Present in Park |
| Ephemeroptera | Baetidae | Baetis flavistriga | No data | Present in Park |
| Ephemeroptera | Baetidae | Baetis tricaudatus | No data | Present in Park |
| Ephemeroptera | Baetidae | Callibaetis ferrugineus hageni | No data | Present in Park |
| Ephemeroptera | Baetidae | Callibaetis pallidus | No data | Present in Park |
| Ephemeroptera | Baetidae | Centroptilum bifurcatum | No data | Present in Park |
| Ephemeroptera | Baetidae | Diphetor hageni | No data | Present in Park |
| Ephemeroptera | Ephemerellidae | Attenella margarita | No data | Present in Park |
| Ephemeroptera | Ephemerellidae | Drunella coloradensis | No data | Present in Park |
| Ephemeroptera | Ephemerellidae | Drunella doddsi | No data | Present in Park |
| Ephemeroptera | Ephemerellidae | Drunella grandis | No data | Present in Park |
| Ephemeroptera | Ephemerellidae | Ephemerella apopsis | No data | Present in Park |
| Ephemeroptera | Ephemerellidae | Ephemerella infrequens | No data | Present in Park |
| Ephemeroptera | Ephemerellidae | Serratella micheneri | No data | Present in Park |
| Ephemeroptera | Ephemerellidae | Serratella tibialis | No data | Present in Park |
| Ephemeroptera | Ephemerellidae | Timpanoga hecuba | No data | Present in Park |
| Ephemeroptera | Heptageniidae | Cinygmula mimus | No data | Present in Park |
| Ephemeroptera | Heptageniidae | Cinygmula par | No data | Present in Park |
| Ephemeroptera | Heptageniidae | Cinygmula ramaleyi | No data | Present in Park |
| Ephemeroptera | Heptageniidae | Epeorus albertae | No data | Present in Park |
| Ephemeroptera | Heptageniidae | Epeorus deceptivus | No data | Present in Park |
| Ephemeroptera | Heptageniidae | Epeorus grandis | No data | Present in Park |
| Ephemeroptera | Heptageniidae | Epeorus longimanus | No data | Present in Park |
| Ephemeroptera | Heptageniidae | Heptagenia elegantula | No data | Present in Park |
| Ephemeroptera | Heptageniidae | Nixe criddlei | No data | Present in Park |
| Ephemeroptera | Heptageniidae | Nixe simplicioides | No data | Present in Park |
| Ephemeroptera | Heptageniidae | Rhithrogena hageni | No data | Present in Park |
| Ephemeroptera | Heptageniidae | Rhithrogena robusta | No data | Present in Park |
| Ephemeroptera | Leptohyphidae | Tricorythodes minutus | No data | Present in Park |
| Ephemeroptera | Leptophlebiidae | Paraleptophlebia debilis | No data | Present in Park |
| Ephemeroptera | Leptophlebiidae | Paraleptophlebia heteronea | No data | Present in Park |
| Ephemeroptera | Leptophlebiidae | Paraleptophlebia memorialis | No data | Present in Park |
| Ephemeroptera | Siphlonuridae | Siphlonurus occidentalis | No data | Present in Park |
| Heteroptera | Pentatomidae | Chlorochroa ligata | No data | Present in Park |
| Homoptera | Aphididae | Acyrthosiphon caraganae (Cholod) | No data | Probably Present |
| Homoptera | Aphididae | Acyrthosiphon lactucae (Passerini) | No data | Probably Present |
| Homoptera | Aphididae | Acyrthosiphon pisum | No data | Probably Present |
| Homoptera | Aphididae | Amphicercipus flocculosus (Gillette & Palmer) | No data | Probably Present |
| Homoptera | Aphididae | Amphorophora Geranii (Gillette & Palmer) | No data | Probably Present |
| Homoptera | Aphididae | Aphis asclepiadis (Fitch.) | No data | Probably Present |
| Homoptera | Aphididae | Aphis craccivora | No data | Probably Present |
| Homoptera | Aphididae | Aphis fabae | No data | Probably Present |
| Homoptera | Aphididae | Aphis fraserae | No data | Probably Present |
| Homoptera | Aphididae | Aphis gossypii | cotton aphid, melon aphid | Probably Present |
| Homoptera | Aphididae | Aphis helianthi (Monell) | No data | Probably Present |
| Homoptera | Aphididae | Aphis Heraclella | No data | Probably Present |
| Homoptera | Aphididae | Aphis lugentis | No data | Probably Present |
| Homoptera | Aphididae | Aphis lupini | No data | Probably Present |
| Homoptera | Aphididae | Aphis neomexicana | No data | Probably Present |
| Homoptera | Aphididae | Aphis oenotherae | No data | Probably Present |
| Homoptera | Aphididae | Aphis penstemonicola | No data | Probably Present |
| Homoptera | Aphididae | Aphis varians | No data | Probably Present |
| Homoptera | Aphididae | Asiphonaphis pruni | No data | Probably Present |
| Homoptera | Aphididae | Atarsos grindeliae | No data | Probably Present |
| Homoptera | Aphididae | Bipersona ochrocentri | No data | Probably Present |
| Homoptera | Aphididae | Bipersona Torticauda | No data | Probably Present |
| Homoptera | Aphididae | Brachycaudus cardui | No data | Probably Present |
| Homoptera | Aphididae | Brachycaudus helichrysi | No data | Probably Present |
| Homoptera | Aphididae | Braggia erigoni | No data | Probably Present |
| Homoptera | Aphididae | Cavariella digitata | No data | Probably Present |
| Homoptera | Aphididae | Cavariella Konoi (Takahashi) | No data | Probably Present |
| Homoptera | Aphididae | Cavariella pastinacae | No data | Probably Present |
| Homoptera | Aphididae | Chaetosiphon bossekiae | No data | Probably Present |
| Homoptera | Aphididae | Chaetosiphon fragaefolii | No data | Probably Present |
| Homoptera | Aphididae | Chaetosiphon tetrarhodes | No data | Probably Present |
| Homoptera | Aphididae | Chaitophorus Essigi | No data | Probably Present |
| Homoptera | Aphididae | Chaitophorus nigrae | No data | Probably Present |
| Homoptera | Aphididae | Chaitophorus populicola | No data | Probably Present |
| Homoptera | Aphididae | Chaitophorus populifolii (Essig) | No data | Probably Present |
| Homoptera | Aphididae | Chaitophorus saliciniger | No data | Probably Present |
| Homoptera | Aphididae | Chaitophorus viminalis | No data | Probably Present |
| Homoptera | Aphididae | Cinara sibiricae | No data | Probably Present |
| Homoptera | Aphididae | Dactynotus escalantii | No data | Probably Present |
| Homoptera | Aphididae | Euceraphis gillettei | No data | Probably Present |
| Homoptera | Aphididae | Forda formicaria | No data | Probably Present |
| Homoptera | Aphididae | Forda marginata | No data | Probably Present |
| Homoptera | Aphididae | Hayhurstia atriplicis | No data | Probably Present |
| Homoptera | Aphididae | Hyadaphis foeniculi | No data | Probably Present |
| Homoptera | Aphididae | Illinoia morrisoni | No data | Probably Present |
| Homoptera | Aphididae | Kakami essigi | No data | Probably Present |
| Homoptera | Aphididae | Kakamia aquilegia | No data | Probably Present |
| Homoptera | Aphididae | Kakamia cerei | No data | Probably Present |
| Homoptera | Aphididae | Lipaphis erysimi | No data | Probably Present |
| Homoptera | Aphididae | Macrosiphum aethocornum | No data | Probably Present |
| Homoptera | Aphididae | Macrosiphum albifrons | No data | Probably Present |
| Homoptera | Aphididae | Macrosiphum californicum | No data | Probably Present |
| Homoptera | Aphididae | Macrosiphum cockerelli | No data | Probably Present |
| Homoptera | Aphididae | Macrosiphum coweni | No data | Probably Present |
| Homoptera | Aphididae | Macrosiphum euphorbiae | No data | Probably Present |
| Homoptera | Aphididae | Macrosiphum geranii | No data | Probably Present |
| Homoptera | Aphididae | Macrosiphum goldameryae | No data | Probably Present |
| Homoptera | Aphididae | Macrosiphum thermopsaphis | No data | Probably Present |
| Homoptera | Aphididae | Macrosiphum valeriane | No data | Probably Present |
| Homoptera | Aphididae | Masonaphis crystleae | No data | Probably Present |
| Homoptera | Aphididae | Masonaphis pseudomorrisoni | No data | Probably Present |
| Homoptera | Aphididae | Myzus persicae | No data | Present in Park |
| Homoptera | Aphididae | Nasonovia Houghtonensis cerei | No data | Probably Present |
| Homoptera | Aphididae | Nasonovia loughtonenses russellae | No data | Probably Present |
| Homoptera | Aphididae | Nasonovia loughtonensis cerei | No data | Probably Present |
| Homoptera | Aphididae | Nearctaphis bakeri (Cowen) | No data | Probably Present |
| Homoptera | Aphididae | Nearctaphis kachena (Hottes) | No data | Probably Present |
| Homoptera | Aphididae | Obtusicauda coweni | No data | Probably Present |
| Homoptera | Aphididae | Periphyllus brevispinosus | No data | Probably Present |
| Homoptera | Aphididae | Phorodon humuli | No data | Probably Present |
| Homoptera | Aphididae | Pleotrichophorus gnaphalodes | No data | Probably Present |
| Homoptera | Aphididae | Pleotrichophorus pycnorhysus | No data | Probably Present |
| Homoptera | Aphididae | Plestrichophorus decompus | No data | Probably Present |
| Homoptera | Aphididae | Pterocomma bicolor | No data | Probably Present |
| Homoptera | Aphididae | Pterocomma populeum | No data | Probably Present |
| Homoptera | Aphididae | Pterocomma populifoliae | No data | Probably Present |
| Homoptera | Aphididae | Rhodobium porosum | No data | Probably Present |
| Homoptera | Aphididae | Rhopalosiphum ceraesifoliae | No data | Probably Present |
| Homoptera | Aphididae | Rhopalosiphum maidis | No data | Probably Present |
| Homoptera | Aphididae | Rhopalosiphum padi | No data | Probably Present |
| Homoptera | Aphididae | Roepkea kachena | No data | Probably Present |
| Homoptera | Aphididae | Sitobion avenae | No data | Probably Present |
| Homoptera | Aphididae | Therioaphis riehmi | No data | Probably Present |
| Homoptera | Aphididae | Uroleucon rudbeckiae (Fitch) | No data | Probably Present |
| Homoptera | Aphididae | Wahlgreniella nervata | No data | Probably Present |
| Odonata | Libellulidae | Sympetrum danae | No data | Present in Park |
| Plecoptera | Capniidae | Capnia coloradensis | No data | Present in Park |
| Plecoptera | Capniidae | Capnia confusa | No data | Present in Park |
| Plecoptera | Capniidae | Capnia gracilaria | No data | Present in Park |
| Plecoptera | Capniidae | Eucapnopsis brevicauda | No data | Present in Park |
| Plecoptera | Capniidae | Paracapnia angulata | No data | Present in Park |
| Plecoptera | Capniidae | Utacapnia logana | No data | Present in Park |
| Plecoptera | Chloroperlidae | Alloperla pilosa | No data | Present in Park |
| Plecoptera | Chloroperlidae | Alloperla severa | No data | Present in Park |
| Plecoptera | Chloroperlidae | Paraperla frontalis | No data | Present in Park |
| Plecoptera | Chloroperlidae | Plumiperla diversa | No data | Present in Park |
| Plecoptera | Chloroperlidae | Suwallia pallidula | No data | Present in Park |
| Plecoptera | Chloroperlidae | Suwallia starki | No data | Present in Park |
| Plecoptera | Chloroperlidae | Sweltsa borealis | No data | Present in Park |
| Plecoptera | Chloroperlidae | Sweltsa coloradensis | No data | Present in Park |
| Plecoptera | Chloroperlidae | Sweltsa fidelis | No data | Present in Park |
| Plecoptera | Chloroperlidae | Sweltsa lamba | No data | Present in Park |
| Plecoptera | Chloroperlidae | Triznaka signata | No data | Present in Park |
| Plecoptera | Leuctridae | Paraleuctra | No data | Present in Park |
| Plecoptera | Leuctridae | Paraleuctra occidentalis | No data | Present in Park |
| Plecoptera | Leuctridae | Paraleuctra projecta | No data | Present in Park |
| Plecoptera | Leuctridae | Paraleuctra vershina | No data | Present in Park |
| Plecoptera | Leuctridae | Perlomyia utahensis | No data | Present in Park |
| Plecoptera | Nemouridae | Amphinemura banksi | No data | Present in Park |
| Plecoptera | Nemouridae | Malenka californica | No data | Present in Park |
| Plecoptera | Nemouridae | Malenka coloradensis | No data | Present in Park |
| Plecoptera | Nemouridae | Malenka flexura | No data | Present in Park |
| Plecoptera | Nemouridae | Podmosta decepta | No data | Present in Park |
| Plecoptera | Nemouridae | Podmosta delicatula | No data | Present in Park |
| Plecoptera | Nemouridae | Prostoia besametsa | No data | Present in Park |
| Plecoptera | Nemouridae | Zapada cinctipes | No data | Present in Park |
| Plecoptera | Nemouridae | Zapada frigida | No data | Present in Park |
| Plecoptera | Nemouridae | Zapada haysi | No data | Present in Park |
| Plecoptera | Nemouridae | Zapada oregonensis | No data | Present in Park |
| Plecoptera | Perlidae | Claassenia sabulosa | No data | Present in Park |
| Plecoptera | Perlidae | Hesperoperla pacifica | No data | Present in Park |
| Plecoptera | Perlodidae | Arcynopteryx compacta | No data | Present in Park |
| Plecoptera | Perlodidae | Cultus aestivalis | No data | Present in Park |
| Plecoptera | Perlodidae | Diura knowltoni | No data | Present in Park |
| Plecoptera | Perlodidae | Isoperla fulva | No data | Present in Park |
| Plecoptera | Perlodidae | Isoperla petersoni | No data | Present in Park |
| Plecoptera | Perlodidae | Isoperla quinquepunctata | No data | Present in Park |
| Plecoptera | Perlodidae | Isoperla sobria | No data | Present in Park |
| Plecoptera | Perlodidae | Kogotus modestus | No data | Present in Park |
| Plecoptera | Perlodidae | Megarcys signata | No data | Present in Park |
| Plecoptera | Perlodidae | Pictetiella expansa | No data | Present in Park |
| Plecoptera | Perlodidae | Skwala americana | No data | Present in Park |
| Plecoptera | Pteronarcyidae | Pteronarcella badia | No data | Present in Park |
| Plecoptera | Pteronarcyidae | Pteronarcys californica | No data | Present in Park |
| Plecoptera | Taeniopterygidae | Doddsia occidentalis | No data | Present in Park |
| Plecoptera | Taeniopterygidae | Taenionema pallidum | No data | Present in Park |
| Trichoptera | Apataniidae | Allomyia chama | No data | Present in Park |
| Trichoptera | Apataniidae | Allomyia gnathos | No data | Present in Park |
| Trichoptera | Apataniidae | Allomyia tripunctata | No data | Present in Park |
| Trichoptera | Apataniidae | Apatania zonella | No data | Present in Park |
| Trichoptera | Brachycentridae | Brachycentrus americanus | No data | Present in Park |
| Trichoptera | Brachycentridae | Micrasema bactro | No data | Present in Park |
| Trichoptera | Glossosomatidae | Agapetus boulderensis | No data | Present in Park |
| Trichoptera | Glossosomatidae | Anagapetus debilis | No data | Present in Park |
| Trichoptera | Glossosomatidae | Culoptila thoracica | No data | Present in Park |
| Trichoptera | Glossosomatidae | Glossosoma parvulum | No data | Present in Park |
| Trichoptera | Glossosomatidae | Glossosoma ventrale | No data | Present in Park |
| Trichoptera | Glossosomatidae | Glossosoma verdonum | No data | Present in Park |
| Trichoptera | Helicopsychidae | Helicopsyche borealis | No data | Present in Park |
| Trichoptera | Hydropsychidae | Arctopsyche grandis | No data | Present in Park |
| Trichoptera | Hydropsychidae | Ceratopsyche morosa | No data | Present in Park |
| Trichoptera | Hydropsychidae | Ceratopsyche oslari | No data | Present in Park |
| Trichoptera | Hydropsychidae | Cheumatopsyche pettiti | No data | Present in Park |
| Trichoptera | Hydropsychidae | Hydropsyche occidentalis | No data | Present in Park |
| Trichoptera | Hydroptilidae | Agraylea multipunctata | No data | Present in Park |
| Trichoptera | Hydroptilidae | Hydroptila pecos | No data | Present in Park |
| Trichoptera | Hydroptilidae | Hydroptila rono | No data | Present in Park |
| Trichoptera | Hydroptilidae | Stactobiella delira | No data | Present in Park |
| Trichoptera | Lepidostomatidae | Lepidostoma apornum | No data | Present in Park |
| Trichoptera | Lepidostomatidae | Lepidostoma cascadense | No data | Present in Park |
| Trichoptera | Lepidostomatidae | Lepidostoma ormeum | No data | Present in Park |
| Trichoptera | Lepidostomatidae | Lepidostoma pluviale | No data | Present in Park |
| Trichoptera | Lepidostomatidae | Lepidostoma roafi | No data | Present in Park |
| Trichoptera | Lepidostomatidae | Lepidostoma stigma | No data | Present in Park |
| Trichoptera | Lepidostomatidae | Lepidostoma unicolor | No data | Present in Park |
| Trichoptera | Leptoceridae | Nectopsyche stigmatica | No data | Present in Park |
| Trichoptera | Leptoceridae | Oecetis avara | No data | Present in Park |
| Trichoptera | Leptoceridae | Oecetis inconspicua | No data | Present in Park |
| Trichoptera | Limnephilidae | Amphicosmoecus canax | No data | Present in Park |
| Trichoptera | Limnephilidae | Anabolia bimaculata | No data | Present in Park |
| Trichoptera | Limnephilidae | Asynarchus montanus | No data | Present in Park |
| Trichoptera | Limnephilidae | Asynarchus nigriculus | No data | Present in Park |
| Trichoptera | Limnephilidae | Chyrandra centralis | No data | Present in Park |
| Trichoptera | Limnephilidae | Dicosmoecus atripes | No data | Present in Park |
| Trichoptera | Limnephilidae | Ecclisomyia conspersa | No data | Present in Park |
| Trichoptera | Limnephilidae | Ecclisomyia maculosa | No data | Present in Park |
| Trichoptera | Limnephilidae | Glyphopsyche irrorata | No data | Present in Park |
| Trichoptera | Limnephilidae | Hesperophylax designatus | No data | Present in Park |
| Trichoptera | Limnephilidae | Hesperophylax magnus | No data | Present in Park |
| Trichoptera | Limnephilidae | Hesperophylax occidentalis | No data | Present in Park |
| Trichoptera | Limnephilidae | Homophylax flavipennis | No data | Present in Park |
| Trichoptera | Limnephilidae | Limnephilus abbreviatus | No data | Present in Park |
| Trichoptera | Limnephilidae | Limnephilus castor | No data | Present in Park |
| Trichoptera | Limnephilidae | Limnephilus coloradensis | No data | Present in Park |
| Trichoptera | Limnephilidae | Limnephilus diversus | No data | Present in Park |
| Trichoptera | Limnephilidae | Limnephilus externus | No data | Present in Park |
| Trichoptera | Limnephilidae | Limnephilus hyalinus | No data | Present in Park |
| Trichoptera | Limnephilidae | Limnephilus indivisus | No data | Present in Park |
| Trichoptera | Limnephilidae | Limnephilus lithus | No data | Present in Park |
| Trichoptera | Limnephilidae | Limnephilus moestus | No data | Present in Park |
| Trichoptera | Limnephilidae | Limnephilus picturatus | No data | Present in Park |
| Trichoptera | Limnephilidae | Limnephilus productus | No data | Present in Park |
| Trichoptera | Limnephilidae | Limnephilus rhombicus | No data | Present in Park |
| Trichoptera | Limnephilidae | Limnephilus sansoni | No data | Present in Park |
| Trichoptera | Limnephilidae | Limnephilus sublunatus | No data | Present in Park |
| Trichoptera | Limnephilidae | Nemotaulius hostilis | No data | Present in Park |
| Trichoptera | Limnephilidae | Onocosmoecus unicolor | No data | Present in Park |
| Trichoptera | Limnephilidae | Psychoglypha ormiae | No data | Present in Park |
| Trichoptera | Limnephilidae | Psychoglypha subborealis | No data | Present in Park |
| Trichoptera | Limnephilidae | Psychoronia costalis | No data | Present in Park |
| Trichoptera | Molannidae | Molanna flavicornis | No data | Present in Park |
| Trichoptera | Phryganeidae | Agrypnia deflata | No data | Present in Park |
| Trichoptera | Polycentropodidae | Plectrocnemia aureola | No data | Present in Park |
| Trichoptera | Polycentropodidae | Plectrocnemia cinerea | No data | Present in Park |
| Trichoptera | Psychomyiidae | Psychomyia flavida | No data | Present in Park |
| Trichoptera | Rhyacophilidae | Rhyacophila alberta | No data | Present in Park |
| Trichoptera | Rhyacophilidae | Rhyacophila angelita | No data | Present in Park |
| Trichoptera | Rhyacophilidae | Rhyacophila brunnea | No data | Present in Park |
| Trichoptera | Rhyacophilidae | Rhyacophila coloradensis | No data | Present in Park |
| Trichoptera | Rhyacophilidae | Rhyacophila harmstoni | No data | Present in Park |
| Trichoptera | Rhyacophilidae | Rhyacophila hyalinata | No data | Present in Park |
| Trichoptera | Rhyacophilidae | Rhyacophila pellisa | No data | Present in Park |
| Trichoptera | Rhyacophilidae | Rhyacophila valuma | No data | Present in Park |
| Trichoptera | Rhyacophilidae | Rhyacophila vao | No data | Present in Park |
| Trichoptera | Rhyacophilidae | Rhyacophila verrula | No data | Present in Park |
| Trichoptera | Uenoidae | Neophylax splendens | No data | Present in Park |
| Trichoptera | Uenoidae | Neothremma alicia | No data | Present in Park |
| Trichoptera | Uenoidae | Oligophlebodes minutus | No data | Present in Park |
Updated 1/06/03

Last updated: May 5, 2018