Human Activities

Although many visitors think of the park as "pristine," humans are having a marked impact on its environment. Airborne pollutants from vehicles, factories, and agricultural activity are altering soil and water chemistry. These changes in the physical environment are in turn altering biological communities.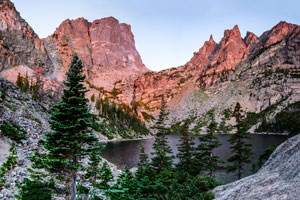 Inputs are most significant on the east side of the park where upslope winds bring nitrates, mercury, ozone, sulfates and other compounds from the communities and agricultural areas of the Front Range. Rapid development from Fort Collins to Pueblo makes it likely that these pollutants will continue to increase.
Other toxins come from far away. Research has shown that alpine lakes are particularly vulnerable to persistent organic pollutants (POPs) such as DDT. These compounds evaporate over tropical areas, then fall out in cooler, temperate areas, a process known as "global distillation." Once deposited in high elevation lakes, cool temperatures prevent POPs from regaining their gaseous state and they continue to accumulate.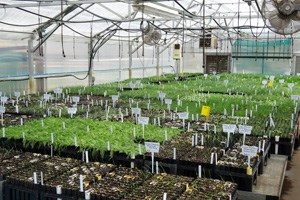 Park Efforts
Construction and rehabilitation of buildings, roads and other structures in the park are always carefully planned to minimize damage to park resources. New projects generally are limited to the existing disturbed "footprint." Before a project gets underway, the area is assessed for archaeological sites, other cultural resources, and for sensitive habitats that might support rare plants or animals.
After construction, the surrounding area is re-vegetated using plant material previously gathered from the area. The park has its own greenhouse so that local seed can be grown into plants to restore disturbed areas. In alpine areas, tundra sod is removed, stored and then replaced after a project is completed.
Last updated: April 24, 2015