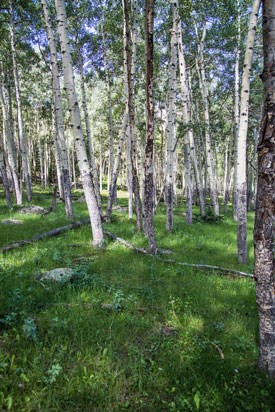 Quaking Aspen
Scientific name (Populus tremuloides)
Habitat: 5,600 ft. to 11,000 ft. (1680 m.-3450 m.), montane to subalpine in dry and moist areas.
Characteristics: Aspens can reach a height between 30 ft. to 65 ft. Bark is smooth with a color of greenish white with black spots and lines. The leaves are small and densely packed on long slender branches.
Fun Facts: Quaking aspens provide beautiful scenery and a rich habitat for wildlife. Aspen, the most widely distributed tree in North America, are one of the few deciduous trees hearty enough to survive in a harsh mountain environment. Aspen trees are short-lived, surviving about 120 years. In mountain environments, the brief and dry growing season often prevents aspen seeds from germinating or seedling from surviving. Instead, an aspen's lateral roots produce vertical shoots, called suckers. Some suckers grow into mature trees, creating a large network of interconnected roots that can produce new trees for over a thousand years! The roots have been shown to exchange resources, such as water and carbohydrates.
Flourishing aspens provide shade for young spruce and fir trees. These conifers grow and eventually replace aspen forests. Long after the visible portion of the aspen tree is gone, the underground root system remains behind patiently waiting for a disturbance from fire, avalanche, or other occurrence that removes the conifer forest. If the sun's warmth touches the soil, it will stimulate the aspen's dormant root system, starting another cycle of this pioneering species.