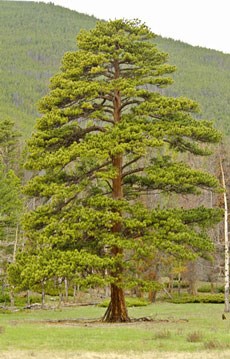 Ponderosa Pine
Scientific name: Pinus ponderosa
Habitat: 5600 ft. to 9500 ft. (1680 m.-2850 m.), primarily the montane ecosystem of the park
Characteristics: Mature trees are often large, with open rounded or flat-topped crowns. They can reach a maximum height over 100 feet with a trunk diameter of 3 feet. Needles range in length from 3 to 7 inches long, and are in bundles of 2 or 3. Female cones are large, woody, with a short hook on each scale.
Fun Facts: The remarkable bark of this tree distinguishes it from others. The bark of older trees changes color from grey-black to a cinnamon or red shade. With age the bark also begins to alter its appearance to a jigsaw like pattern as it gets thicker. The thick bark of the older trees helps to protect them from wildfires. For many, the most memorable feature of the ponderosa pine is the fragrance the bark releases. On warm days ponderosa bark smells like vanilla or butterscotch. Ask your friends which flavor they smell.
The seeds, inner bark, and tips of branches provide food for several squirrel species. The Abert's squirrel in particular depends on the ponderosa pine for much of its diet. The Abert's squirrel is so dependent on the ponderosa pine that it is found almost exclusively in ponderosa pine forests.
The species name ponderosa means "ponderous" and refers to the large size attained by these trees.