Alpine History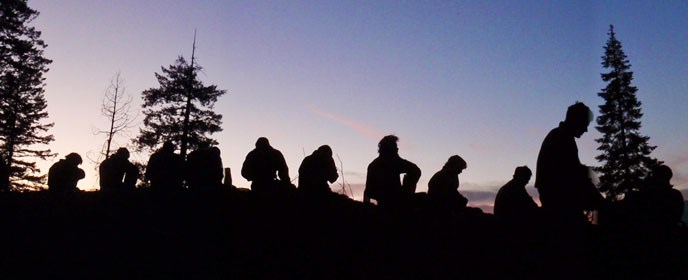 The Alpine Hotshot crew has been assigned to several different duty stations during its history including Grand Canyon, Yellowstone, and Zion National Parks. In 1993, Alpine was reassigned to its current location in Rocky Mountain National Park. The crew moved into a new work center and dormitory facility in view of Longs Peak, the tallest peak in the park.
Although the majority of Alpine's suppression assignments are to locations other than Rocky Mountain National Park, prescribed fire and fuels reduction projects provide plenty of work in the "Front Range" area. The Fort Collins Interagency Dispatch center dispatches duties for the crew from Fort Collins, Colorado. Interregional resource orders are received through the Rocky Mountain Area Coordination Center (RMACC) located in Lakewood, Colorado.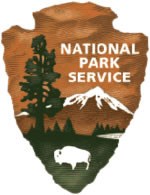 Early Years
The National Park Service established its Interagency Hotshot Crew program
in May of 1981. These Hotshot Crews were the first Hotshot crews funded by the Department of Interior and were known as Arrowhead One, Two, and Three and originally stationed in Arizona, California, and Wyoming. In 1982 the names were changed to Alpine, Arrowhead, and Bison IHCs. These names were derived from the National Park Service emblem. In 1985 budgetary constraints eliminated Bison IHC.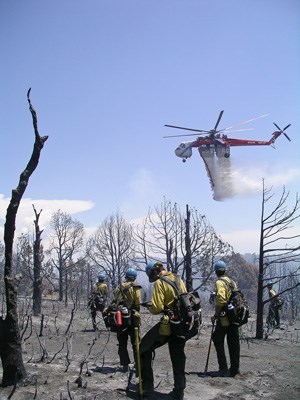 1989-1992
The Alpine IHC was administered from the NPS fire management office at the National Interagency Fire Center (NIFC) from 1981 until 1988. The crew was assigned to several different duty stations during this time period, including Cumberland Island National Seashore, Santa Monica Mountains National Recreation Area, Grand Canyon, Yellowstone, Crater Lake, and Mount Rainier National Parks.
While in California, the crew was based out of Malibu at Camp 8 and in Oregon it was based out of the old Rogue River Hotshot base. From 1988 to 1991 the crew was stationed at Zion National Park, although members never lived there. The base of operations during 1988 was Brianhead Ski area and a small motel in Parowan, Utah from 1989 to 1991.
Alpine was the first crew ordered for the Yellowstone fires in 1988. The crew spent a week on the 700 acre Falls Fire west of the south entrance of Yellowstone prior to the massive mobilization of interagency resources. The crew also participated in a major burnout operation around Grant Village while fighting the Red-Shoshone Fire.
During the Dude Fire on June 26, 1990 three members of Alpine and four Forest Service hotshots were involved with life saving actions of a burned firefighter. Unfortunately, six other firefighters perished when they were overrun by fire. The entire crew received national commendations and Superintendent Jim Mattingly, Squad Boss David Niemi and EMT Bill Moe received the NPS Valor Award.
Zion could not provide permanent housing so the crew moved to Wind Cave National Park for the 1992 season. The actual base of operations was located in an old coal gasification plant on the southeast side of Rapid City, South Dakota. The highlights of that season included a tour to Voyageurs NP in Minnesota and extensive time spent in the Salmon River Breaks country of Idaho.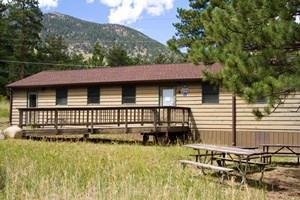 Establishing a Permanent Base of Operations 1993-Present
Following the 1992 season, several bids to host the crew were received from various parks. The decision to place the Alpine crew at Rocky Mountain National Park was based on a number of considerations including support capability, project work availability, and especially the park's offer to construct new dormitory facilities for a permanent base of operations.
The crew spent its first season living and working out of the historic "Blister Rust" dorm, built in the 1930's and housed crews conducting white pine blister rust control. Coincidentally, while the crew was stationed at Yellowstone National Park, its base of operations was in that park's "Blister Rust" dorm located in the Canyon District.
Construction was completed on the new dorm and work center facility in the spring of 1994, and the crew has called it home ever since. The center includes kitchen facilities, quadruple occupancy dorm rooms, restrooms/showers, living/training/dining rooms, exercise/weight room, laundry room, small dry goods cache, and a squad boss office. The deck was constructed out of the lumber salvaged from the lift house from the closed Hidden Valley ski area.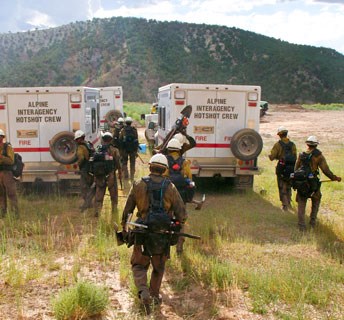 Project work at the park, over the years, has consisted of prescribed fire support, hazard fuels mitigation, snow shoveling at Alpine Visitor Center, trail work on both sides of the park, demolition of the Hidden Valley ski area lift house, restoration work at Hidden Valley, landscaping of the dorm site, structure defense thinning at Leiffer Cabin, and providing various fire training to park employees.
The crew has also assisted with a variety of projects including prescribed fire support, hazard fuel thinning and trail work at many national parks including, Voyageurs, Isle Royale, Pipestone, Grand Teton, Yellowstone, Mount Rushmore, Badlands, Jewel Cave, Wind Cave, Big Bend, Guadalupe Mountains, Carlsbad Caverns, Bandalier, Saguaro, Grand Canyon, Pipe Springs, Zion, Bryce, Mount Rainier, Crater Lake, Lava Beds, Yosemite, Sequoia & Kings Canyon, Golden Gate, Fort Clatsop, Channel Islands, Santa Monica Mountains, Gulf Islands, Big Cypress, Blue Ridge Parkway, Buffalo River, Bent's Old Fort and Big Thicket.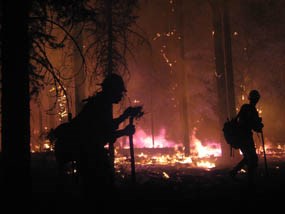 The majority of fire assignments have been away from the vicinity of Rocky Mountain National Park except during the summer of 2002, when Colorado experienced a record fire year. The crew has fought fire and implemented prescribed fires in all states in the west as well as Alaska, Canada (Ontario, Alberta), Virginia, West Virginia, Tennessee, Georgia, Florida, Arkansas, and North Carolina.
Last updated: April 9, 2015