Implementation - Vegetation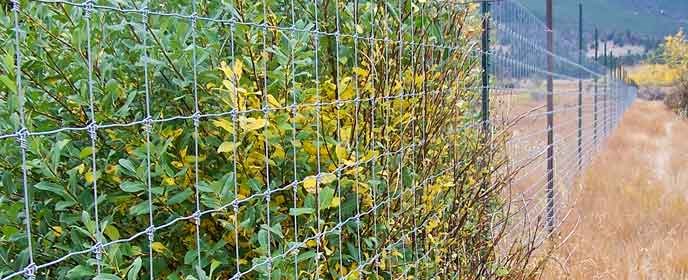 Management actions called for in the Elk and Vegetation Management Plan require knowledge about vegetation conditions in Rocky Mountain National Park. The park monitors various features of aspen, willow and upland plant communities. Several management tools are used to protect and actively restore vegetation areas.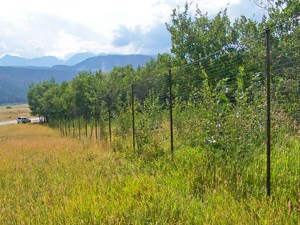 Monitoring Plan for Vegetation Responses to Elk Management in Rocky Mountain National Park
Monitoring
Rocky Mountain National Park has established a network of over 200 vegetation monitoring plots in aspen, willow and upland shrub areas since 2008. Baseline conditions recorded at the time of plot establishment are compared to more recent measurements to determine the progress of vegetation restoration.
Researchers developed protocols to guide field staff in collecting monitoring data for each vegetation type (Zeigenfuss et al. 2011). These procedures address desired future vegetation conditions such as aspen regeneration and willow cover and height. They also measure variables associated with these results, such as consumption of willow and upland herbaceous vegetation.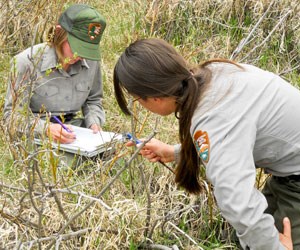 Park staff record browsing and grazing measurements on willow shrubs and upland herbaceous vegetation annually. This includes calculating the offtake (the amount of vegetation browsed or grazed) for both types of vegetation, and comparing average measures year to year.
Every five years, staff measure parameters that take more time to respond, such as plant growth and regeneration. These include specific measures of aspen sapling regeneration, and height and cover of willows and upland shrubs. This information will help gauge progress in the following areas.
Preventing aspen clone loss
Increasing the size and extent of willows on the winter range
Reducing elk grazing and browsing on vegetation
Data were collected in 2013, five years after plan implementation began, to assess progress toward desired future conditions, and a report will be released in 2015. Results will be used to guide management actions in coming years.
Management Tools
Elk Exclosure Fences
One of the primary conservation tools used for elk and vegetation management are fenced areas, called exclosures, that protect critical habitat from elk browsing. Extensive research was done to develop the fence design that is being used (Vercauteren et al. 2007). The fences keep elk out, but a 16-inch gap along the bottom of the fence allows other animal species to enter and exit freely. Marked gates also provide visitor access to these protected areas and visitors are encouraged to enjoy them.
Fences are installed as needed based on vegetation needs and monitoring results. The fences are temporary and will be removed when vegetation has recovered, and the effects of elk are determined to be at an acceptable level.
Since 2008, exclosure fences have been placed in core winter range areas where restoration needs are the greatest. A total of 24 fenced acres cover just six percent (230 acres) of open areas on the 3,400 acre park winter range. Additional fencing, up to a total of 600 acres, will be constructed as needed based on future vegetation responses to decreased browsing and other restoration methods.
In 2011, the park began to look at fencing benefits on the west side of Rocky Mountain National Park. Exclosures currently protect approximately 16 acres of willow habitat in the Kawuneeche Valley.
Willow Stem Planting and Seeding
A primary purpose of current elk and vegetation management is to promote the recovery of vegetation conditions on the winter range. In areas where fences have eliminated elk browsing temporarily, willow restoration may occur simply by allowing time for the plants to grow. In heavily impacted areas, natural recovery may not occur without additional action. Willows can root from stem cuttings if enough water is present, and the park is using this restoration method to stimulate recovery.
There is currently little to no establishment
of new willow plants on the core winter range. In some areas such as Moraine Park, there are few mature willows to produce seed for future recovery and limited sites suitable for new willows to become established (Gage and Cooper 2003). Elk browsing, historical modifications to the habitat, and the Fern Lake Fire all contributed to current conditions. Active restoration in these areas is expected to speed up willow recovery.
In 2011 and 2013, the Colorado based Wildland Restoration Volunteers helped the park plant thousands of willow cuttings to help begin willow recovery in Moraine Park. Additional planting is planned for 2015.
Connect to more information about elk and vegetation management below.
Last updated: October 2, 2015